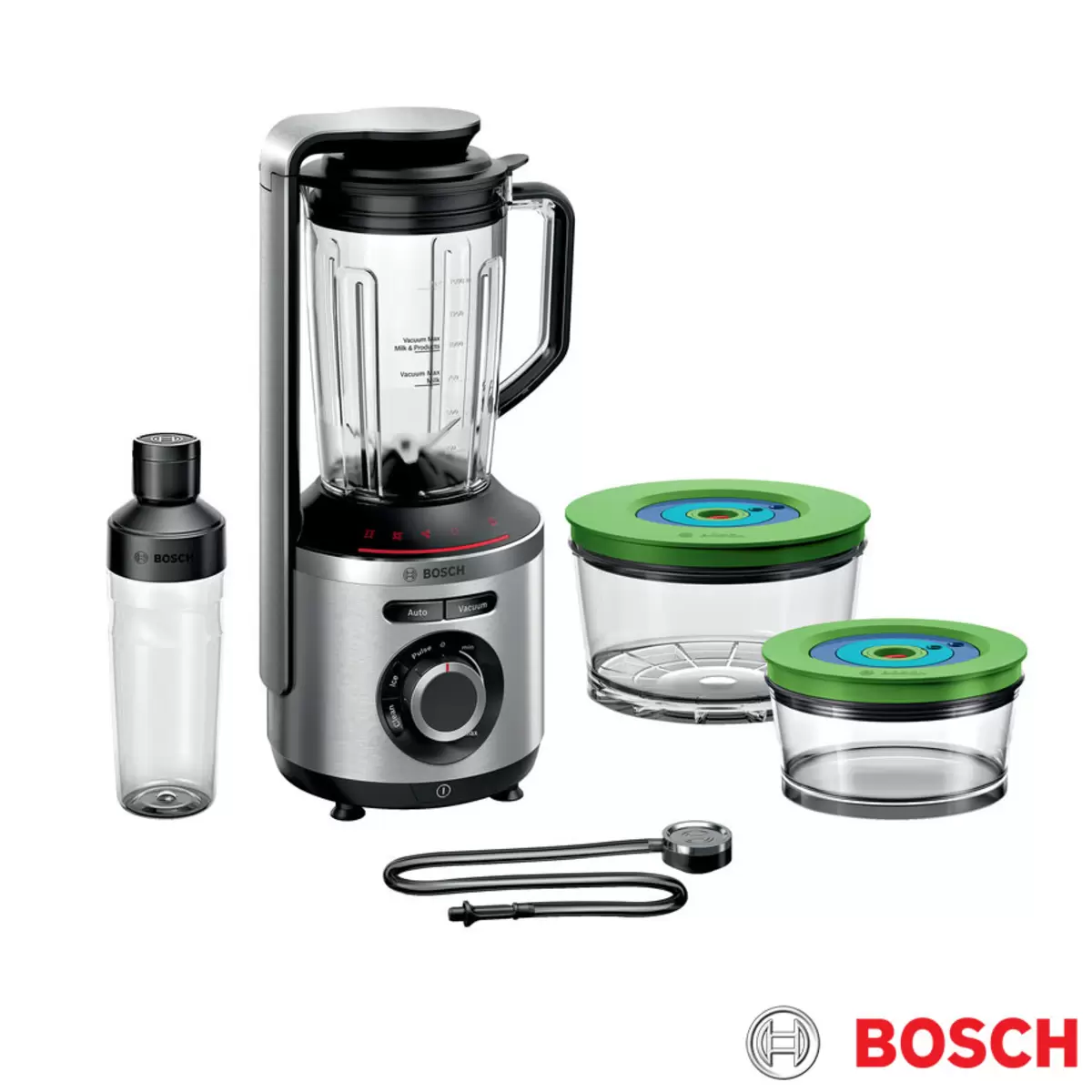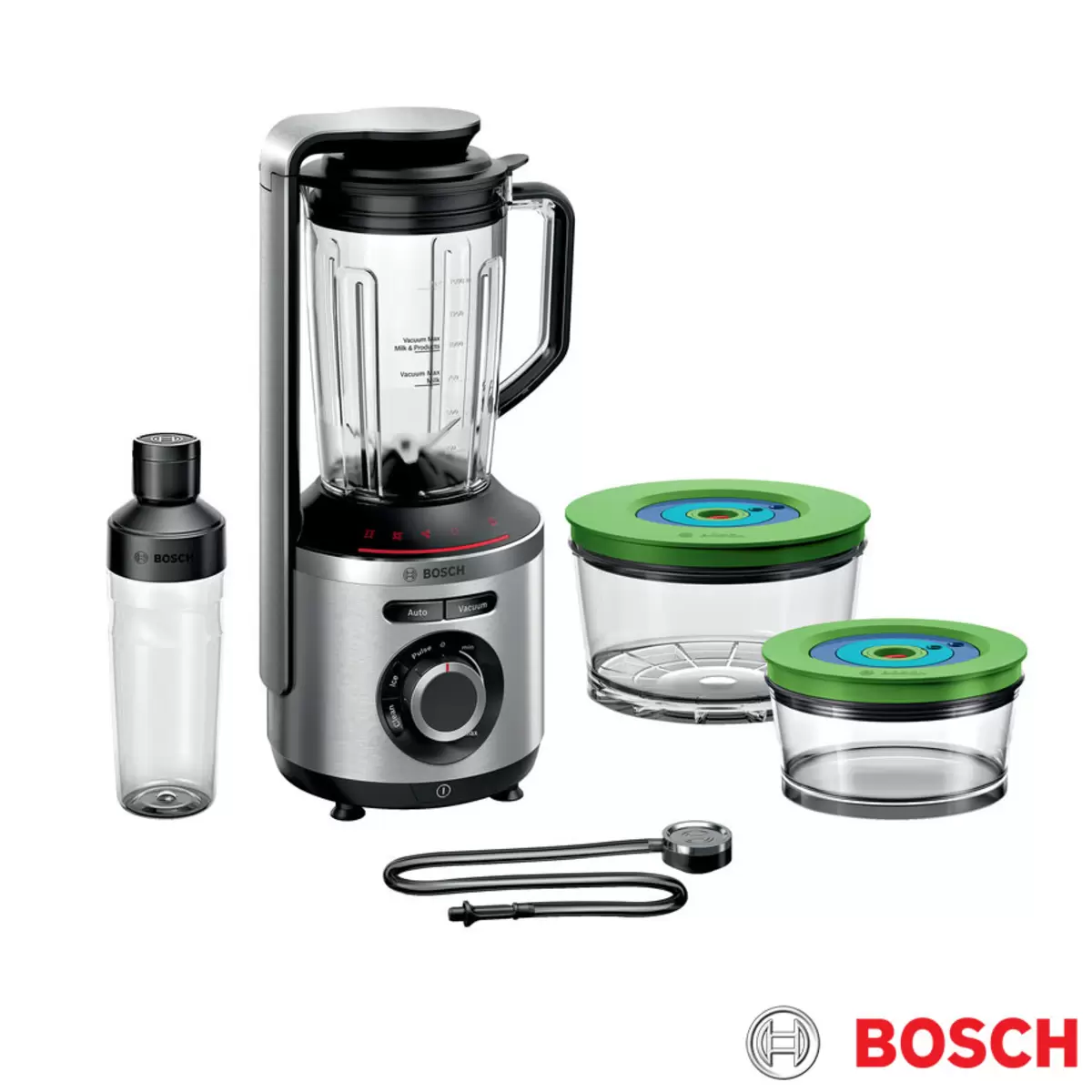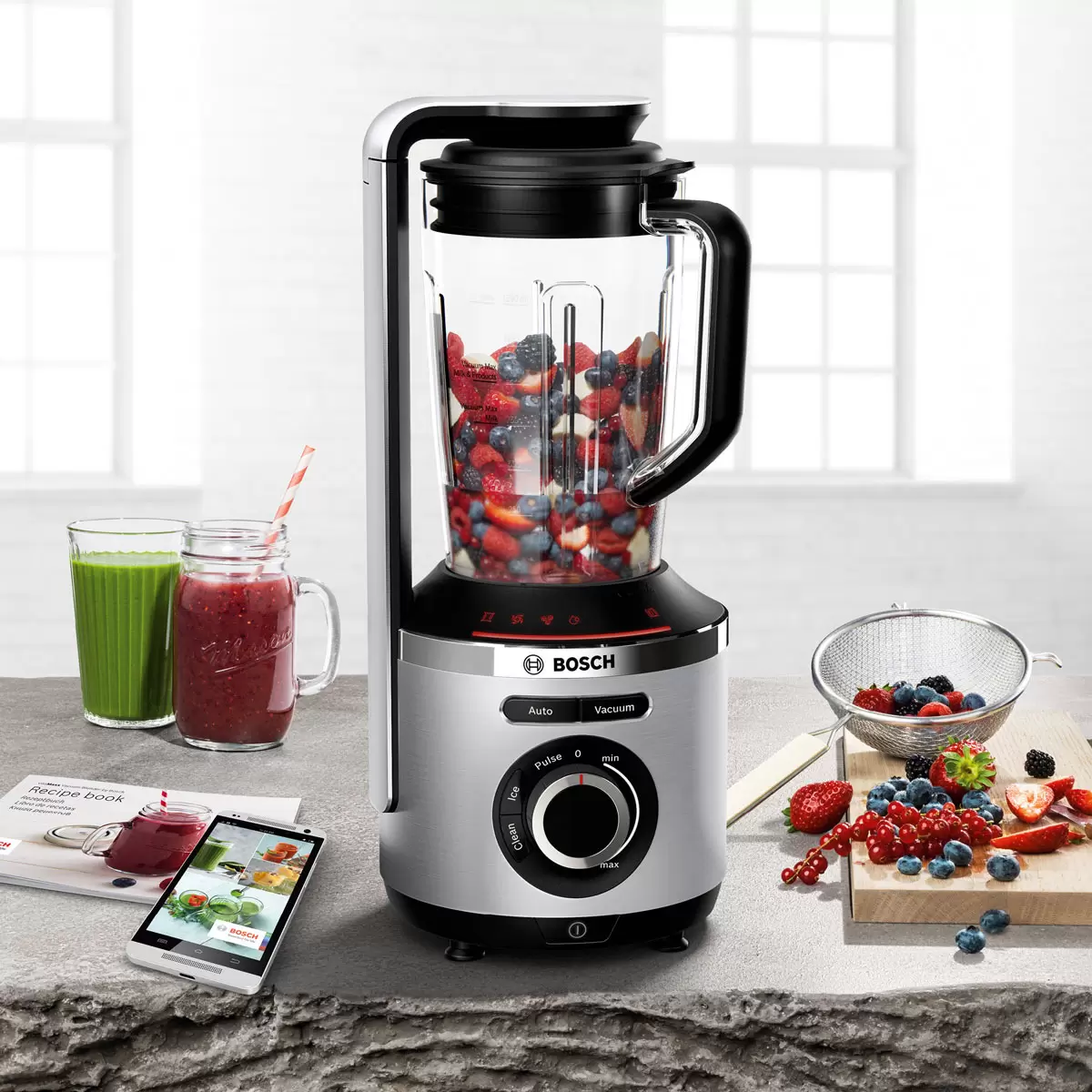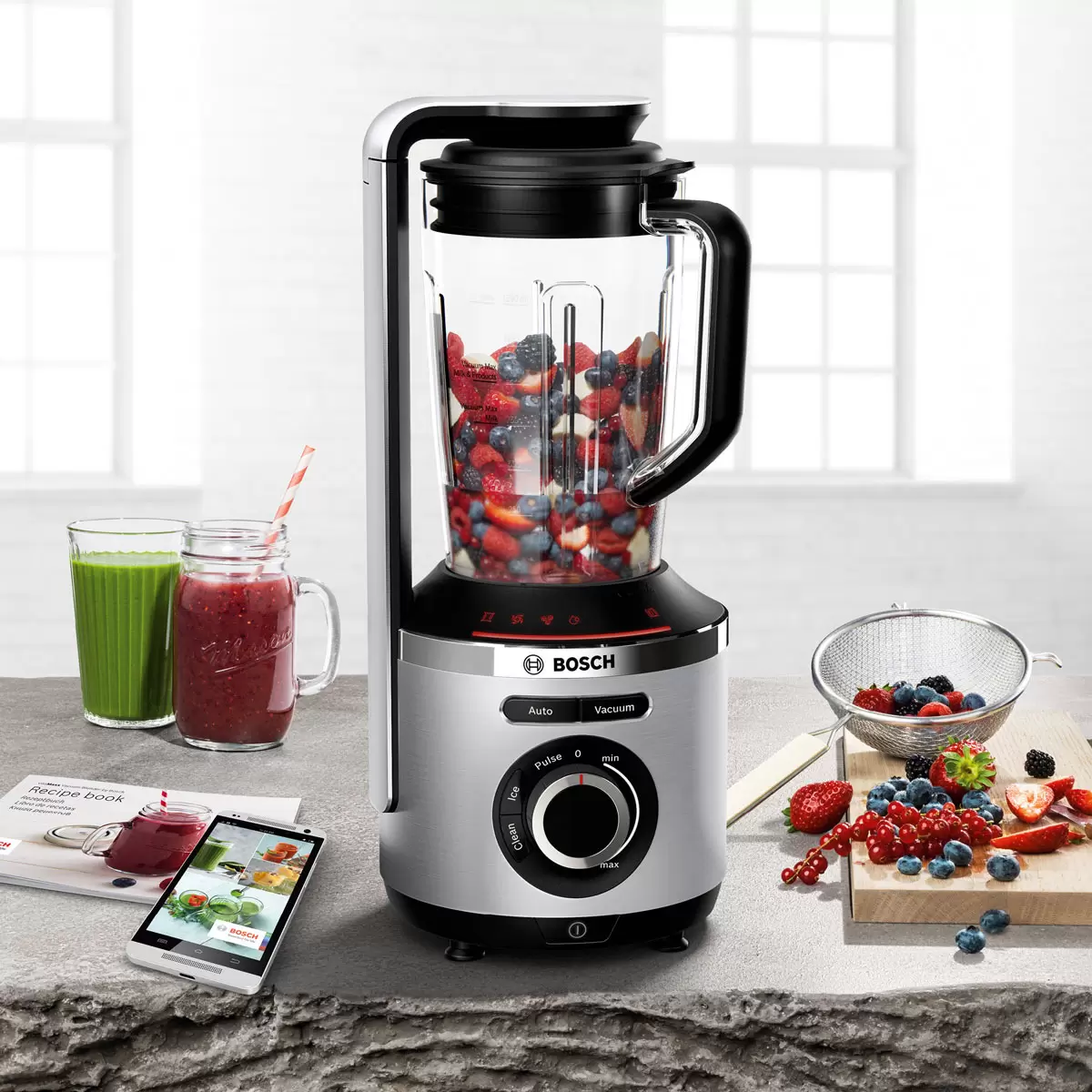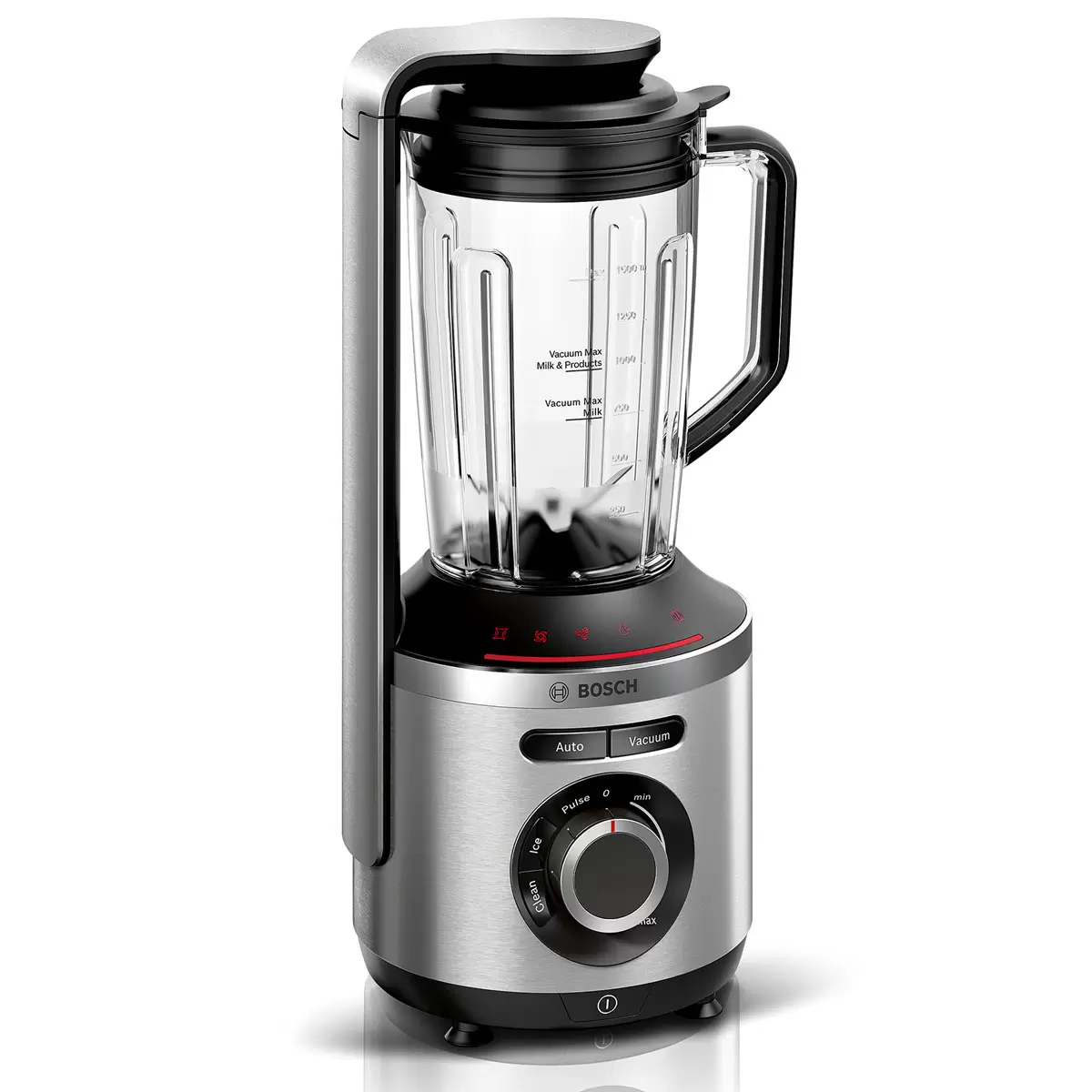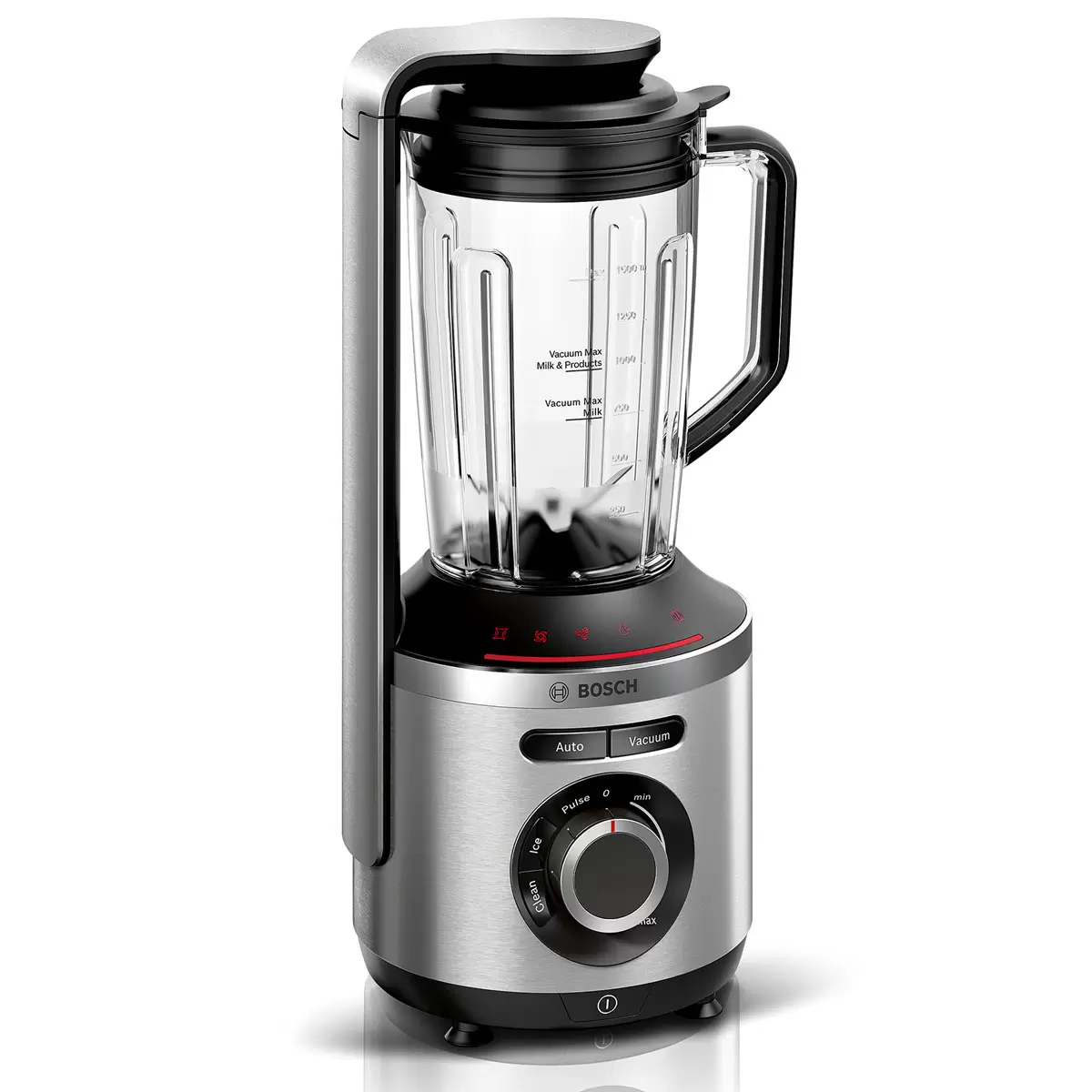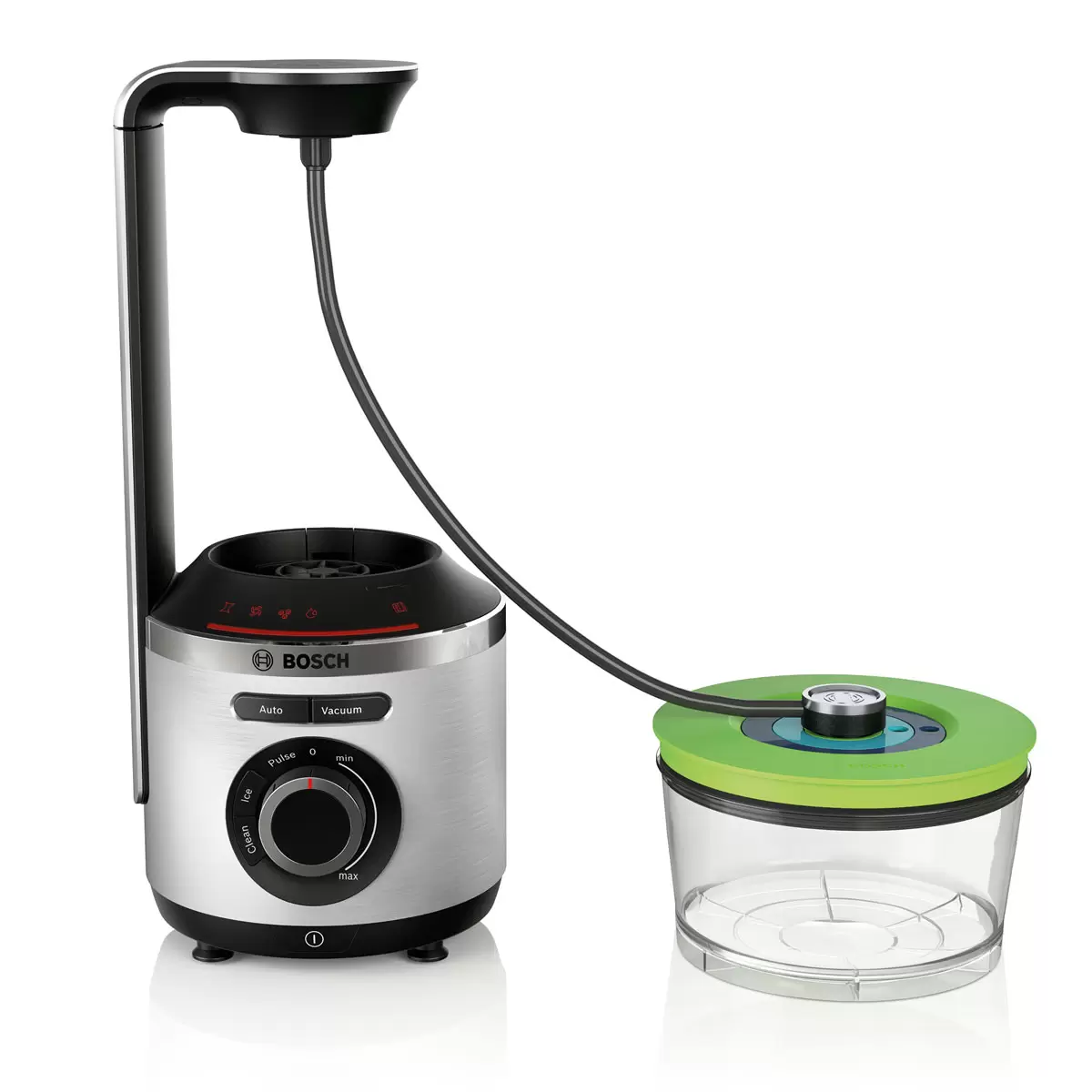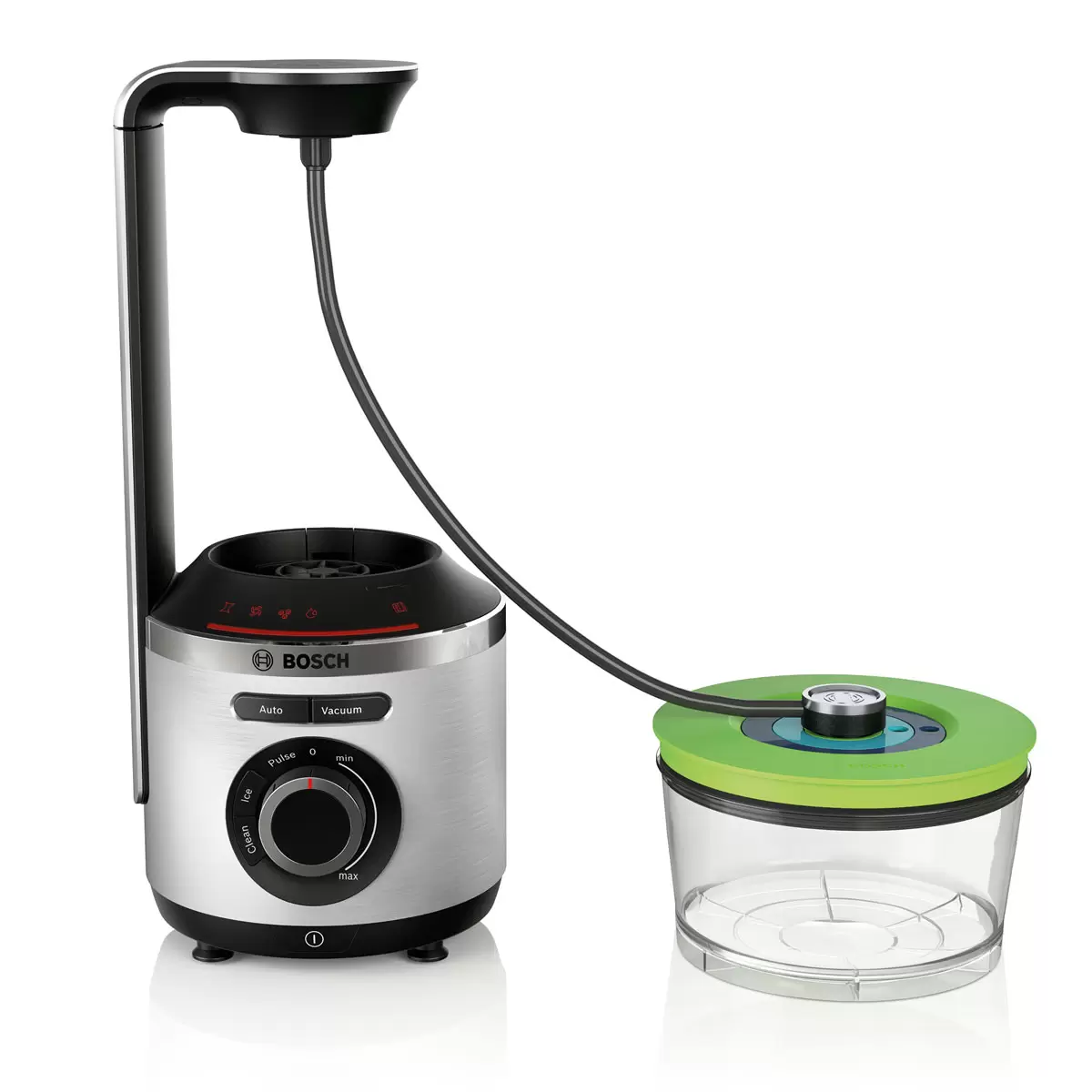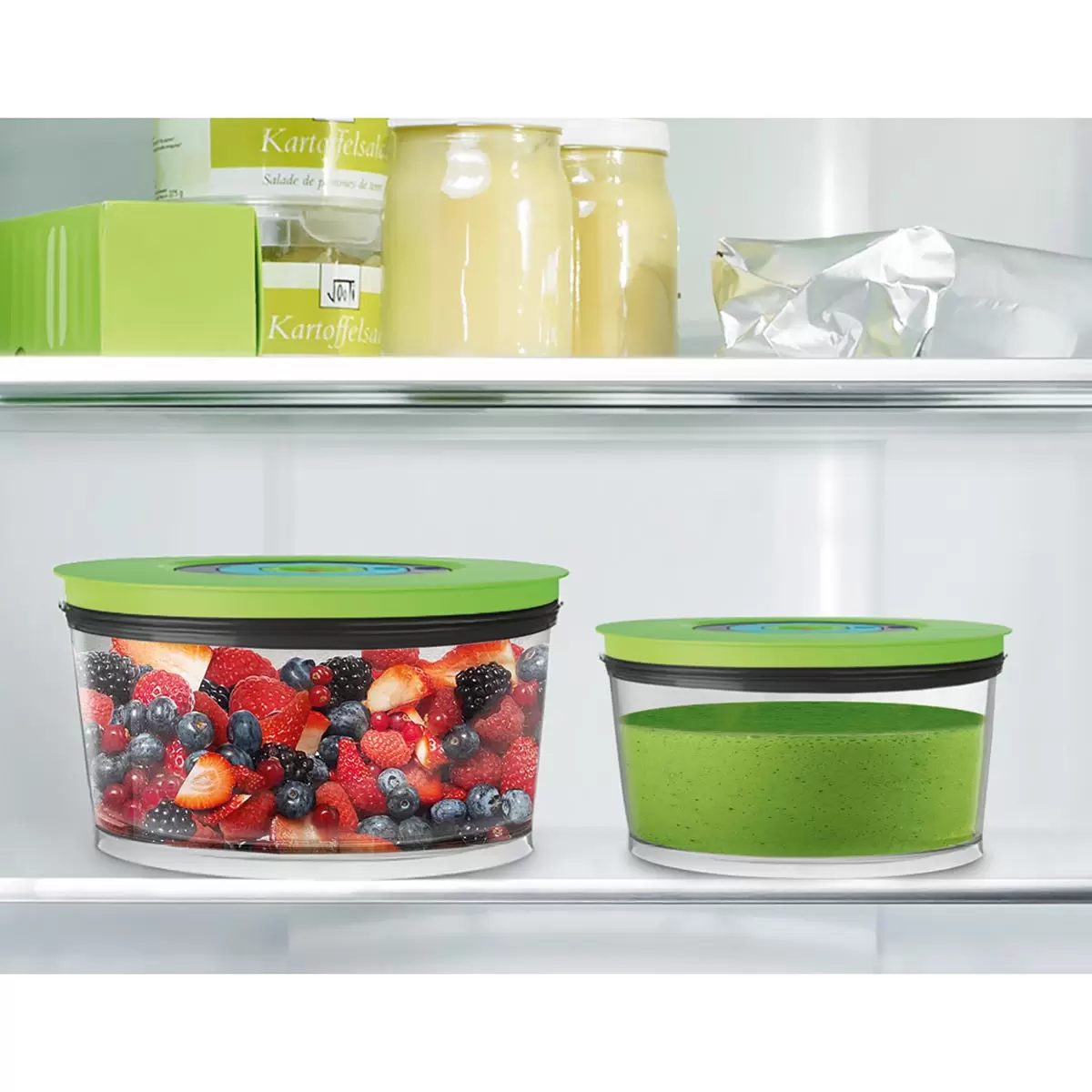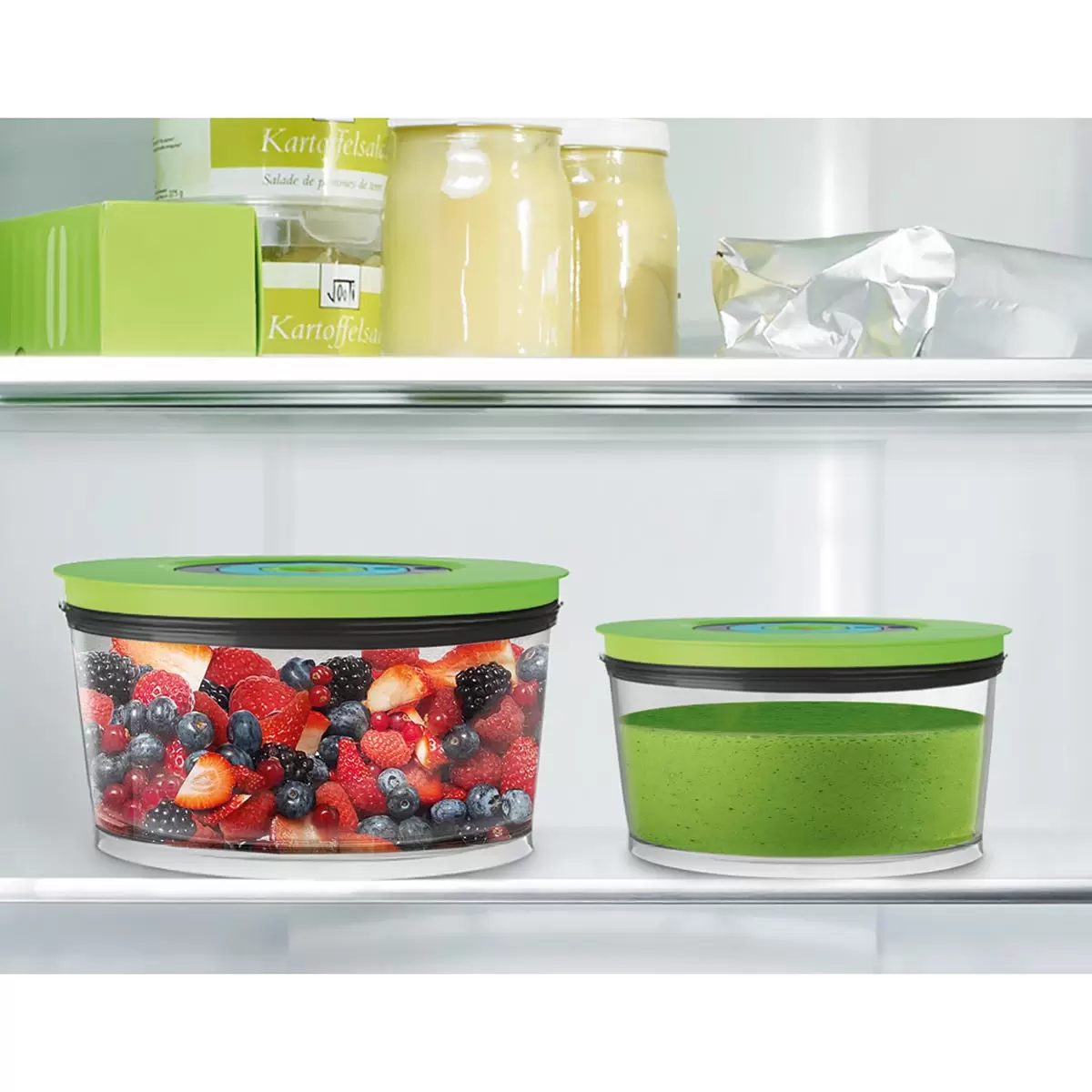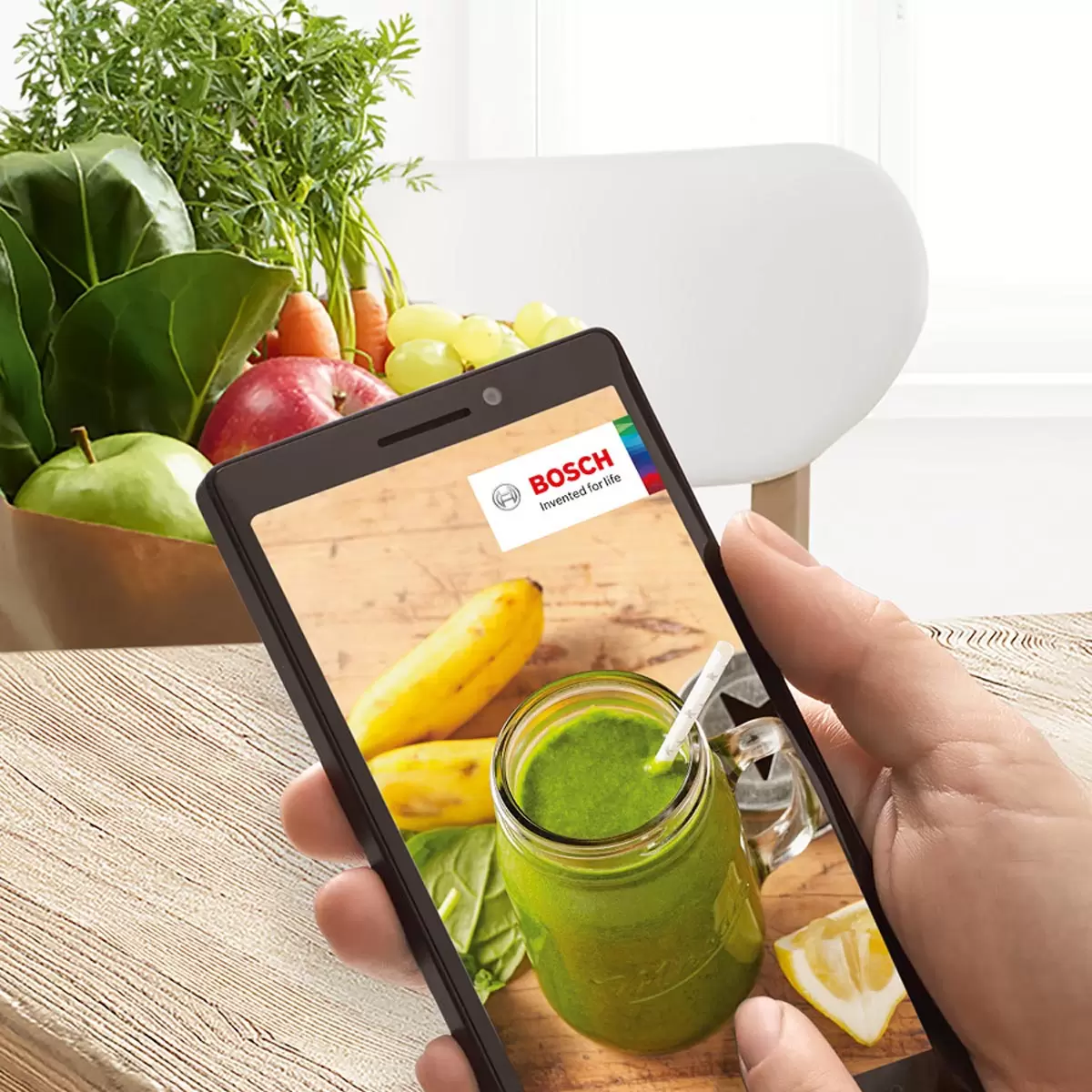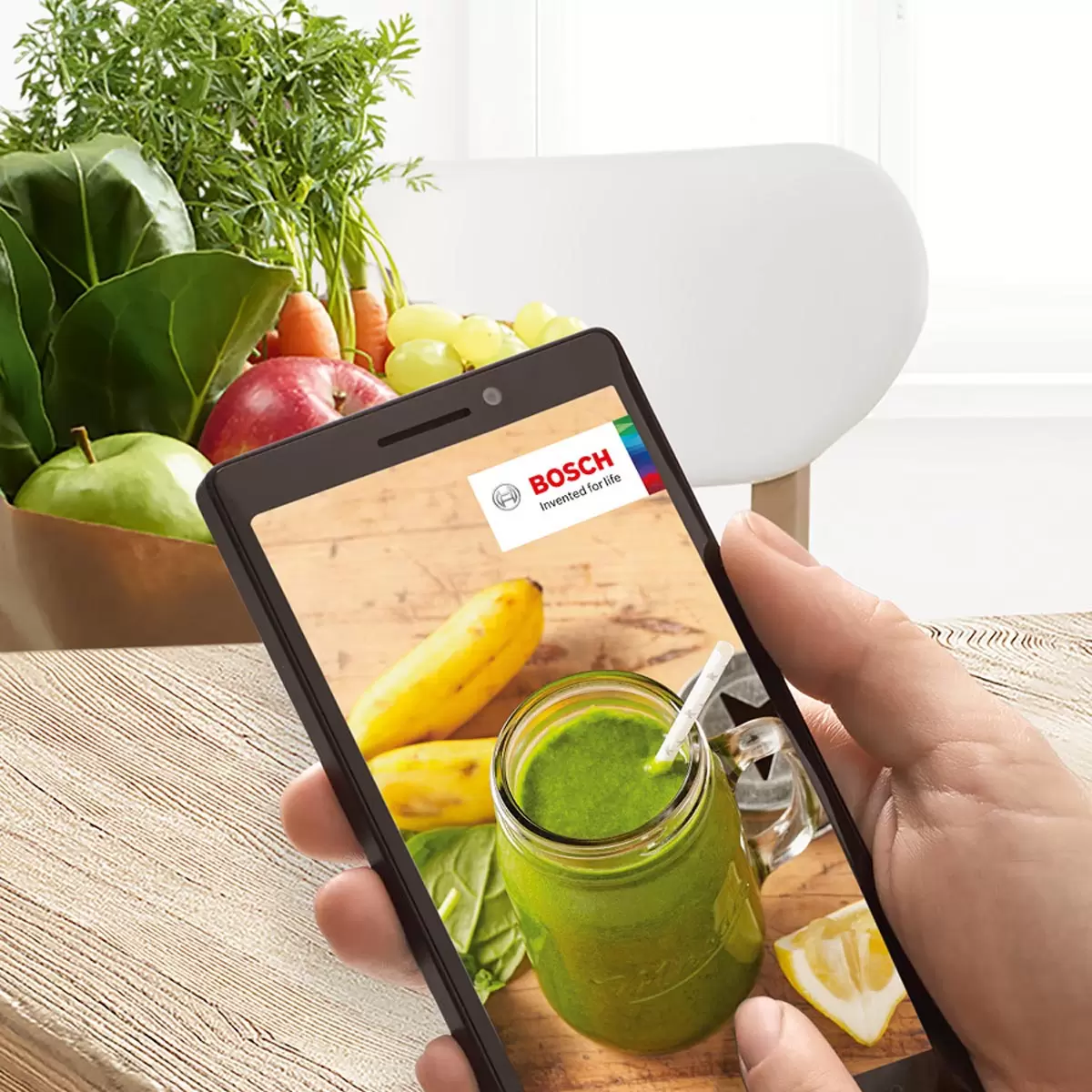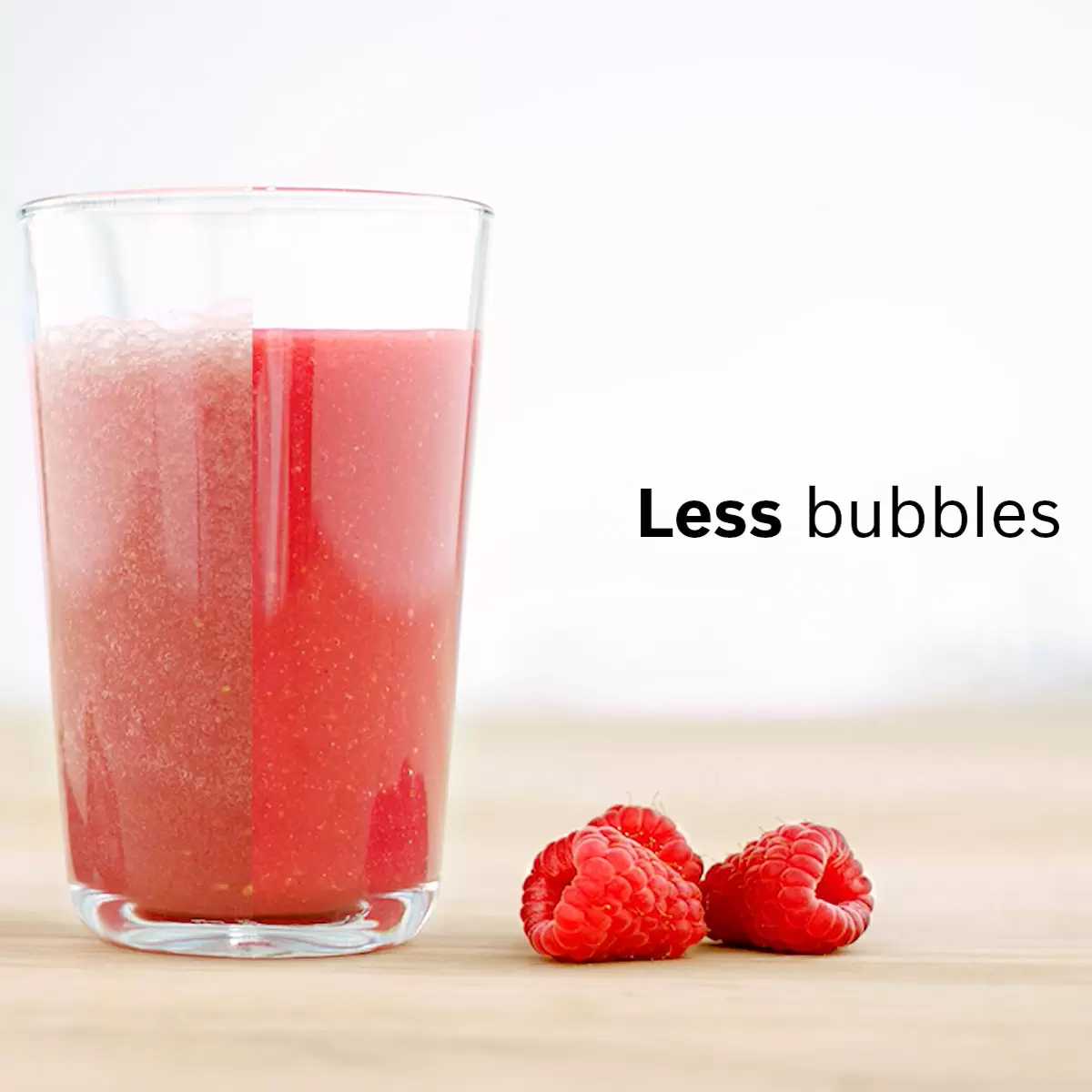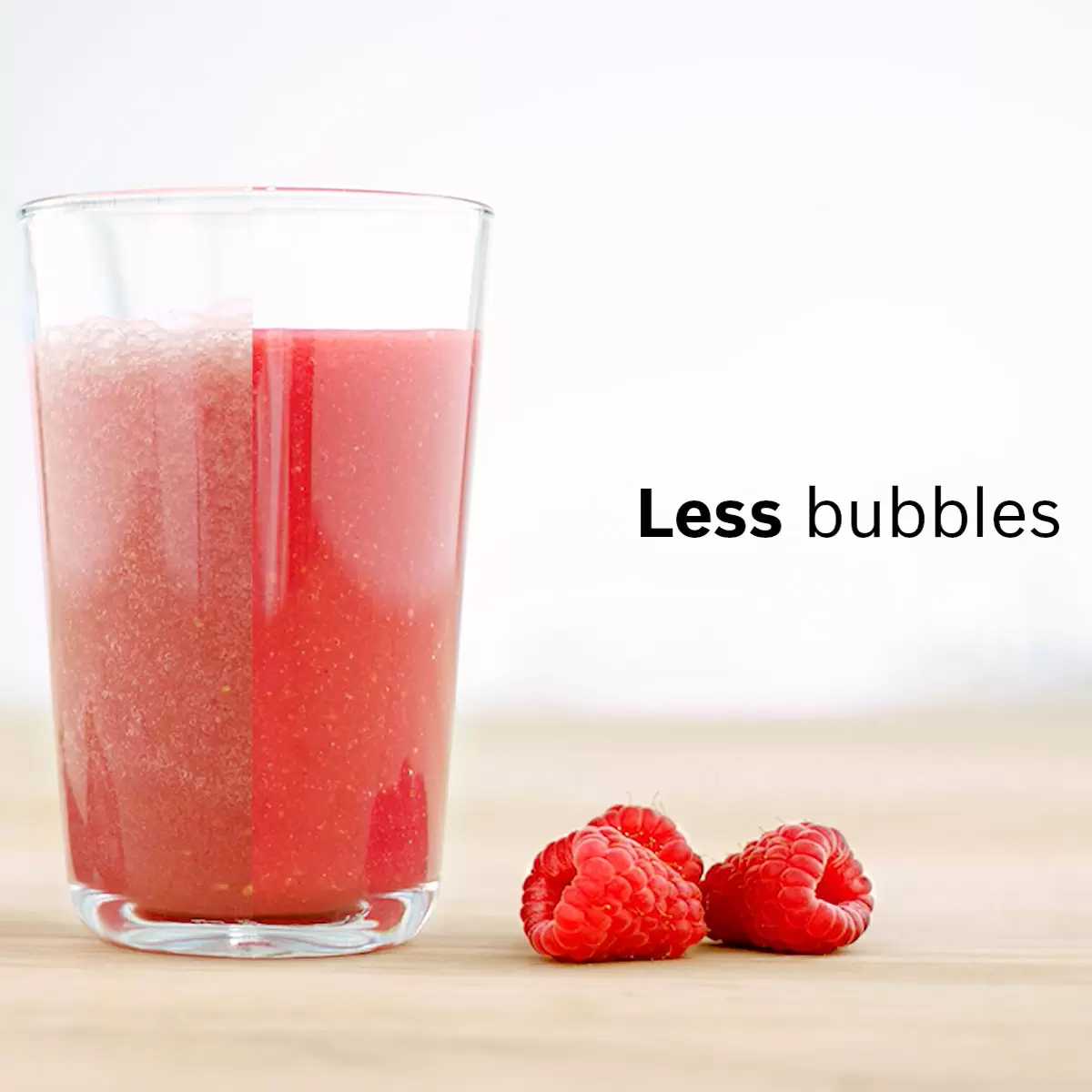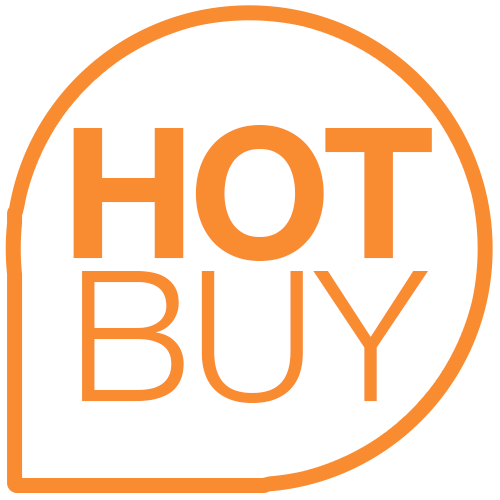 Bosch VitaPower Serie 8 Vacuum Blender with Storage Set, MMBV625M
Item #355357
Features
- Powerful motor: 1000 Watt with up to 37,000 rpm motor speed
- High performance 6-bladed stainless steel knife.
- 1.5-litre Shatterproof Tritan blender jug
- Vacuum Technology & storage
Bosch VitaPower Serie 8 Vacuum Blender is the perfect kitchen appliance for a healthy lifestyle. Enjoy excellent smoothie results with intensive taste, smooth texture and natural colours, ensuring they stay fresher longer.
Blending under vacuum conditions means blending with minimised oxidation leading to a smooth texture with less bubbles, less layers and more natural colours compared to regular blending. It keeps up to 5 x more vitamin C and other oxygen-sensitive vitamins after 24 hours storage compared to regular blending. In the additionally provided ToGo bottle and the vacuum storage boxes, any food and drink can be vacuum sealed - for an
up to 2 x longer storage time compared to storage without vacuum.
The VitaPower Serie 8 offers you all you need from a premium blender: a powerful 1000-watt motor with up to 37000 rpm motor speed, variable speed setting, pulse function, ice crush and cleaning programme and a durable, high quality aluminium housing.
Smoothies are usually quick to lose their colour, texture and vitamins after blending. With vacuum blending technology, ingredients are blended under minimised oxidation. Therefore vacuum blended smoothies retain up to 5 x more vitamin C after 24 hours as compared to regular blending without vacuuming.
Smoothies and other foods have limited storage time. You can now extend this: vacuum seal any drink or food in the ToGo bottle (600ml) or vacuum storage box with vacuum function and keep them fresh for up to 2 x longer than without vacuum. Food should stay fresh for a long time to avoid food waste. In the dishwasher-safe
vacuum storage boxes (1.5l & 0.75l) made of tritan with date-setting function, you can vacuum store food, left-overs or vegetables. Stored under vacuum, food stays fresh for up to 2 x longer than without vacuum.
Excellent smoothies - 100% taste – fewer bubbles and layers, more natural colours.
Now you can create perfect smoothies with intensive taste. Vacuum blended smoothies have a very creamy, homogenous texture with less bubbles and less layers and a better appearance with more natural colours compared to standard blending.
Four automatic programmes at the touch of a button.
No more guesswork as to when a smoothie is ready. The convenient auto button starts the automatic vacuum and blend function. Further practical functions include vacuum only, ice crush and cleaning programme. In addition, there is also a pulse function and a manual variable speed setting.
Cleaning after preparation usually takes time. But not with this blender. Thanks to the cleaning programme, the jug of the blender almost cleans itself at the touch of a button. The parts are dishwasher-safe and the blade can simply be cleaned under running water.
Features:
Powerful motor: 1000 Watt with up to 37.000 rpm motor speed
Durable 1.5-litre blender jug made of shatterproof tritan.
High performance 6-bladed stainless steel knife. Detachable for easy cleaning.
Auto function (vacuum+blend), vacuum-function, ice crush and cleaning program.
Variable speed setting and pulse function
Easy cleaning with dishwasher safe parts (jug, detachable blades, lid, accessories)
Material/Design
1.5-litre Tritan blender jug: shatterproof, taste and odour free
All plastics that are in contact with food are BPA free
VitaBar App with tasty recipes and tips
What's in the box?
Bosch VitaPower Vacuum Blender
Vacuum ToGo bottle (0.5l)
2x vacuum storage boxes (1.5l and 0.75l)
Vacuum Hose
Recipe book

Model: MMBV625M
EAN: 4242005105731
| | |
| --- | --- |
| Brand | Bosch |
| Type | Vacuum Blender |
| Dimensions | H 43.8 x W 19.1 x D 19.5 Kg |
| Weight | 7.7 Kg |
| | |
| --- | --- |
| Load Capacity | 1.5 L |
| Spin Speed | 37.000 rpm |