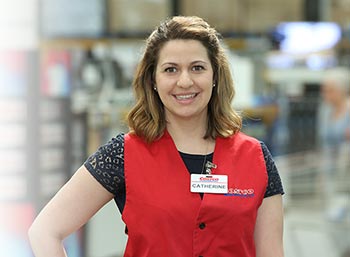 Help Topics
Customer Care
---
Costco Wholesale Member Privileges & Conditions
(last updated January 2020)
We look forward to serving you as a Costco member or Subscriber. If you have any questions, please ask our member services personnel at any Costco membership counter, or click Customer Care on Costco.co.uk. Customer Care on Costco.co.uk.
Membership
Membership is available to all qualifying individuals 18 years of age and over. Costco reserves the right to refuse membership to any applicant and membership may be terminated at Costco's discretion and without cause.
Membership is subject to any and all rules adopted by Costco, and they may be amended from time to time without notice.
Members are required to present valid photo ID, or any valid passport along with supporting documentation* to the membership desk before collecting their membership card in the warehouse.
The member's photograph is required to validate each membership card. Photographs will be taken at the warehouse.
*
Costco Trade supporting documentation
*
Costco Individual supporting documentation
Membership Cards & Fees
Membership fee is for one 12-month period from the date of purchase of membership by the Primary Cardholder.
Your membership card is valid at any Costco warehouse worldwide and is not transferable.
You will be required to show your membership card when entering any Costco warehouse and when checking out at the tills. Photocopies are not acceptable.
Your membership card must have a card number and your photo to be valid.​
Report lost or stolen cards to any Costco membership counter immediately.
Cards remain the property of Costco and must be returned upon request.
There is a limit of one Executive Membership per household or business.
Your new Membership may be used at once for online purchases but must be validated before it may be used in Costco warehouses and before any Membership cards are issued. In order to have a warehouse membership, you must deliver the required documentation described above in person at a Costco warehouse and obtain a membership card. Once the required documents are produced, your Membership card(s) will be issued. If you do not provide documents necessary to satisfy the Membership conditions, Costco may cancel your warehouse Membership and refund the Membership fee. This will not affect your previous online transactions and you may instead apply for an online only subscription.
Renewing, Adding or Deleting Cards
You will receive a renewal notice by post or email each year. Renewal fees are due no later than the last day of the month your membership expires. You may pay your renewal fee by post using a cheque in any Costco UK warehouse or online at Costco.co.uk.
Membership renewal must be completed for all cardholders on the membership when the renewal is processed.
You will not receive new membership cards each year.
Memberships renewed within 2 months after expiration of the current membership year will be extended for 12 months from the expiration date. Memberships renewed more than 2 months after such expiration will be extended for 12 months from the renewal date. All renewals will be at the membership fee in effect on the date the membership fee is paid.
The Primary Member must authorise renewal or cardholder changes, including additions or deletions, and is responsible for the membership.
Primary Members may add additional Cardholders to their membership. To add cardholders to your Membership, visit the membership counter at any UK warehouse.
Risk-Free 100% Satisfaction Guarantee
On Membership: We will cancel and refund your membership fee in full at any time if you are dissatisfied.
On Merchandise: We guarantee your satisfaction on every product we sell, and will refund your purchase price, with the following general exceptions - please see Costco.co.uk or the membership counter for details on current exceptions:

Electronics:

Costco will accept returns within 90 days (from the date member received merchandise) for the following products and other similar products: consumer electronics, major appliances, computers and tablets, cameras, mobile phones (return details will vary by carrier service contract) and MP3 players (the 90 day return policy limit does not include kitchen counter-top small appliances). In addition Costco also extends the Manufacturer's warranty to 5 years on Televisions and 2 years on Computers and Camcorders. All other products are subject to the remaining manufacturer's warranty.

Diamonds:

1.00ct or larger: Members returning a diamond over 1.00ct must also present all original paperwork (IGI and/or GIA certificates) at which time they will receive a Jewellery Credit Memo. Within 48 hours, our Costco Graduate Gemologist will inspect for authenticity and condition.

Gold Bullion:

Costco's customer satisfaction guarantee and returns policy does not apply to gold bullion. However your legal rights are unaffected.If you are a consumer, these rights may include a right to return the gold bullion for a refund, or to obtain a replacement or a price deduction, if the gold bullion is not of satisfactory quality and as described, or if it does not match any sample provided. Your specific rights will depend on the time since you bought the gold bullion and the specific nature of the problem.
If you are a trader, you may have a claim for damages in these circumstances.

Cigarettes and alcohol:

Costco does not accept returns on cigarettes or alcohol where prohibited by law.
Refunds for products with a limited useful life expectancy, sold with a product-specific limited warranty will be prorated.

Special Order Kiosk and Custom Installed Programs:

Custom product(s) manufactured to our member's personal and unique specifications cannot be returned or refunded, except for warranty repair/replacement due to failure to meet specifications.
The Costco Guarantee does not affect any additional statutory rights you may have.




How to Return:

For an immediate warehouse purchased refund, simply return your purchase at any one of our Costco warehouses. For online purchase at Costco.co.uk, you can return goods by calling our Customer Care Centre on free phone 0800 0324 324. Click here for further information.
The Costco Guarantee applies only to members who are current at the time of the refund, but your statutory rights are not excluded.
Membership Fee - Executive Membership
The total annual membership fee for Executive Trade members is £56 plus VAT, and £62 plus VAT for Executive Individual members. Both include a complimentary spouse/domestic partner card. It does not include additional card holders on either Trade or Individual membership account(s).
Executive Membership is only available to Costco warehouse members and is not available to online Subscribers. Executive Membership is only available for purchase in your local warehouse.
The Executive Membership upgrade fee for a current Costco member is an additional £34 plus VAT for both Trade and Individual members. (Upgrade amount will be calculated on a pro rata basis depending on the months remaining on your current membership).
The Conditions of Membership for Trade members will also apply to Executive Trade members.
The Conditions of Membership for Individual members will also apply to Executive Individual members.
There is a limit of one Executive Membership per business or household.
Salvage members and Export members do not qualify for the upgrade.
Membership Fee - Trade
Membership fee is £22.00 (plus VAT), which includes a complimentary spouse/domestic partner card, is for a twelve (12) month period from the month of enrolment.
Up to six additional cards are available, charged at £14.00 (plus VAT) each. Each additional cardholder will be issued a personalised membership card. Additional cards are only available for purchase & issue in your local warehouse.
All additional cards expire at the same time as the primary membership card, regardless of when they were issued. The primary member is responsible for payment of fees for all additional memberships.
Membership Fee - Individual
Membership fee of £28.00 (plus VAT), which includes a complimentary spouse/domestic partner card, is for a twelve (12) month period from the month of enrolment.
A second card is available to an individual over the age of 18, who resides at the same address as the primary member.
The fee for the second card is £14.00 (plus VAT). The additional second household member individual card is only available for purchase and issue to applicants that come to the warehouse with the primary member.
Online Only Annual Subscription Fee
You may become a Costco Online (Costco.co.uk) Only Subscriber ("Subscriber") by paying an annual fee of £15 (including VAT) at checkout when you make your first online purchase. When making your first purchase after expiry, you will be given an opportunity to renew your subscription for an additional year. Subscribers must be eighteen years of age or older. If you are a Subscriber, you will only be able to shop online and will not be able to shop at a Costco warehouse.
Payment
We welcome cash, cheques debit cards (UK Maestro, Visa Debit) and all major credit cards (Mastercard, American Express and Visa) in Costco Warehouses.
We welcome debit cards (UK Maestro, Visa Debit) and all major credit cards (Mastercard, American Express and Visa) and PayPal online at Costco.co.uk.
Cheques must be in the exact amount, issued on the member's account, and pre-printed with the member's name. Debit cards and credit cards must be in the member's name. Cheque writing privileges are subject to limits set by the warehouse manager.
Costco charges £25 for every cheque returned by the bank for non-sufficient funds.
If any legal action is brought by Costco to collect monies, the member will pay the face amount of the cheque, plus interest thereon at the rate of two per cent (2%) per month, plus expenses incurred during collection.
The Primary Member will be liable for returned cheques written by any additional cardholder.
Title to all merchandise passes to the member when full payment is received, and cleared in the case of payment by cheque.
General Policies
Members are welcome to bring their children and up to two guests into the warehouse; however members are responsible for their children and guests. Children should not be left unattended. Only Costco members may purchase items.
Costco can refuse entry to anyone at any time, at its discretion.
Smoking and e-cigarettes are not permitted at Costco warehouses.
Members will be required to purchase any packages opened or damaged by them or their guests.
All transactions, including returns, can only be made by a card holder.
Costco reserves the right to inspect any container, backpack, briefcase, etc., upon entering or leaving the warehouse.
To ensure that all members are correctly charged for the merchandise purchased, all receipts and merchandise will be inspected as you leave the warehouse.
Privacy
We respect your right to privacy. We handle your Personal Data in accordance with our Privacy Policy. Please obtain a copy from our membership counter, or read the Privacy Policy at Costco.co.uk.
ADDITIONAL TERMS – EXECUTIVE MEMBERSHIP
The Reward programme is subject to the following restrictions:
Costco Wholesale reserves the right at its discretion to discontinue or change the Reward Programme at any time, without prior notice, or disqualify the member or cancel his/her participation.
A member must be an active, paid Executive Member both at the time the Reward is earned and at the time the Reward is issued in order to receive the annual 2% Reward.
Only eligible purchases made by the primary or spouse/domestic partner cardholders in the UK will apply towards the Reward.
2% Reward
As a Costco Executive member, you receive a 2% Reward based on your annual Costco Wholesale purchases in the UK (see "Calculation of Reward" below).
The reward certificate is mailed with your renewal notice and may only be used towards purchases in Costco Wholesale UK warehouses within 12 months of the reward certificate being issued.
The Reward is capped at and will not exceed £500 for an Executive Trade member in any 12 month period.
The Reward is capped at and will not exceed £400 for an Executive Individual member in any 12 month period.
The Reward must be used against one transaction.
Calculation of Reward
The Reward programme is subject to the following restrictions:
Generally, Rewards are 2% of the purchase price of goods (exclusive of VAT), and will be calculated on most purchases of goods by UK members through the main checkout at Costco Wholesale UK warehouses and on Costco.co.uk.
Rewards calculation does not include the following purchases: (i) Costco Travel (ii) fuel (iii) cigarettes or tobacco related products, postage stamps, gold bullion or charitable donations, canvas prints and photobooks from the online Photo Centre, baby milk for infants up to the age of 6 months old, purchases from the Food Court; (iv) on purchases made by anyone other than the Executive Membership account primary or spouse cardholders; (v) where prohibited by law; and (vi) on certain other categories of purchases that may be determined at Costco's discretion.
Rewards are accumulated until 3 months prior to the renewal date. Purchases made after then will count towards the next year's reward.
The reward will be calculated on the value of net purchases only, excluding coupons and refunds.
The period of calculation will run from the date of the member's paid upgrade to Executive Membership or the Reward programme start date, whichever is later, through to the date 3 months prior to when Costco Wholesale mails the member his/her next membership renewal notice. Purchases from the last 3 months will be added to the following year's Reward calculation.
If the Executive membership is downgraded to a standard membership before the Reward is mailed, all Rewards calculated up until that point will be lost. If the membership is upgraded again at a later date, the Reward calculation will start from the new upgrade date and any previous Rewards earned will not count towards the final Reward.
Use of Reward
Reward certificate may only be redeemed by the primary or spouse/domestic partner cardholder towards most purchases of most goods through the main checkouts at Costco Wholesale UK warehouses, and must be used within the date the Reward was issued. Reward Certificates are not redeemable on Costco.co.uk.
Reward certificates may be used towards purchases of goods only; they have no cash value.
Reward certificates may not be used (i) towards purchases that are not recorded through the main checkouts such as purchases made at Costco Wholesale's Food Courts, (ii) Costco Travel, (iii) where prohibited by law; and (iv) on certain other categories of purchases that may be determined at Costco's discretion. Reward certificates will not be replaced if lost or stolen.
This agreement is for the Costco Wholesale UK Ltd Trade members and covers the WEEE regulations in force in the United Kingdom since 2006. These regulations may be amended from time to time.
This agreement applies to relevant electrical and electronic equipment (EEE) which has been purchased from Costco Wholesale UK Ltd by its Trade members and other purchasers which are not private households.
The buyer of this relevant EEE acknowledges and agrees that the buyer shall:
At all times be and remain responsible for the collection, treatment, recovery and environmentally sound disposal of relevant WEEE and all associated financial charges.
Have its own arrangements in place for dealing with the relevant WEEE in a way that is consistent with the WEEE regulations and continue to comply with all WEEE regulations.
Provide Costco Wholesale UK Ltd with such co-operation, assistance and information as may be reasonably required in relation to WEEE. The information will be used for Costco Wholesale UK Ltd obligations under the WEEE regulations.
Click here for further information regarding the WEEE regulations
Updated 19th November 2019.
©2019 Costco Wholesale Corporation. All rights reserved.