The Sure Petcare Team is committed to producing products which meet the needs of pets and their owners alike...
About Sure Petcare
In 2007 Cambridge physicist Dr. Nick Hill begun developing the first SureFlap product in his spare room, where he set out to solve the problem of unwanted neighbourhood animals getting into his house. Sure Petcare now manufacture a range of innovative, award-winning pet products.
The company prides itself on creating products that improve pet's lives using the latest technology, which are backed up with outstanding service and support.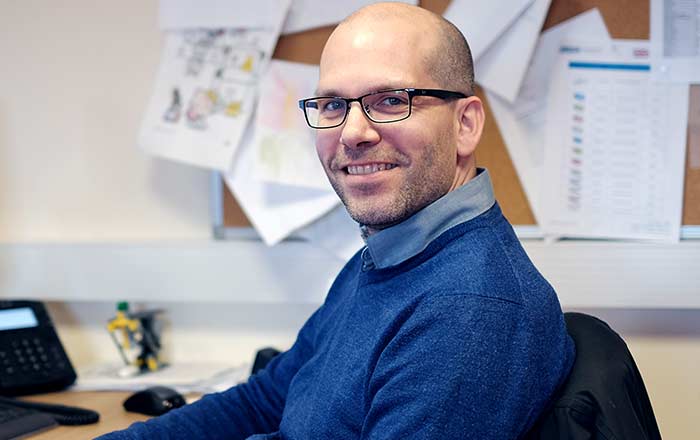 The Sure Flap Microchip Cat Flap is born
Nick's cat, Flipper, initially had a low-cost non-selective cat flap which, within weeks, was being used by several of the neighbourhood's cats. He was tired of the frequent cat fights and spraying incidents in the kitchen, which were causing considerable stress to him and resulting in trips to the vet for Flipper, so Nick purchased a magnetic cat flap. Flipper was unimpressed with the collar he had to wear to operate the cat flap and was forever clawing at it before he finally managed to lose the collar. The magnetic collar would also allow any other cats who also had a magnet into the house.
Nick researched the other selective cat flaps on the market and discovered that they all required Flipper to wear a collar. As a physicist, Nick realised the potential of using Flipper's identification microchip to operate a cat flap. After three years' of intensive research and development, Nick launched the SureFlap Microchip Cat Flap in early 2008. Since then the product has changed the lives of 100,000s of pets, by reducing stress and improving their health and wellbeing, and is recommended by pet owners and vets around the world.
Innovative pet feeding solutions
In 2014 SureFlap expanded beyond microchip cat flaps and launched the first product in the SureFeed range, the SureFeed Microchip Pet Feeder. The company recognised a problem faced by owners with multiple pets, controlling who eats what and ensuring they are getting the correct type and amount of food to keep them fit and healthy.
Using the microchip reading technology from their pet door range SureFlap developed a food bowl which only opens for the correct pet. The feeder reads the pet's microchip as it approaches and if the correct number is read the lip slides open. The Microchip Pet Feeder is the perfect products for pets on prescription diets or weight management programmes.
In 2017 SureFlap became Sure Petcare to better reflect the company's vision to provide pet products that empower owners to care for their pets in entirely new ways.