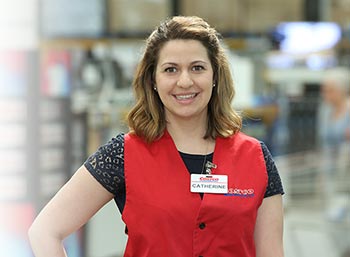 Help Topics
Customer Care
---
Popular Articles
Costco Members: If you are a Costco Member you may shop online. Simply register online and create a new account, enter your membership number, and start shopping! If you are an Executive Member your online purchases qualify toward your annual reward.
Online Only Annual Subscribers: If you don't qualify for Costco membership you can still shop online by purchasing the Annual Subscription. Click here for details. Subscribers must be eighteen years of age or older. If you are not satisfied with your subscription, we will refund your entire subscription fee at any time.
Not all products sold on Costco.co.uk are available at your local Costco warehouse. Products sold online may have different pricing than the same products sold at your local Costco warehouse due to shipping and handling fees charged for delivery. Click here for more information
Shipping and handling charges are included in the item cost for deliveries to locations in the United Kingdom unless otherwise indicated elsewhere in the Site Terms, or on the particular product page.
Subject to the conditions and exceptions described below, we guarantee your satisfaction with every product we sell. If you are not satisfied with the products sold by us, you may return them to us for a full refund, including delivery charges.
Whilst nearly all items can be returned without a time limit, the following must be returned within 90 days of purchase: televisions, projectors, computers (including laptops, tablets and PDAs), cameras, camcorders, MP3 players, cellular phones and other products covered by our Electronics Return Policy – Click here to learn more about our Costco Concierge Technical Support Services. We extend the manufacturer's warranty to 5 years on televisions and 2 years on computers and camcorders. All other electronic products are subject to the manufacturer's warranty. Special sales terms.
When you are returning jewellery items, costco.co.uk requires additional time to verify the piece of jewellery, in which case a refund will be approved upon positive verification and as long as the item is not damaged or changed in any way (i.e. resized or reset). This process may require seven to ten business days.
If you ask for a refund we will refund your money within one week following our receipt and verification of the goods. If possible, refunds will be made in the same way as your original payment.
Please note that verification may take longer in the case of jewellery and other Higher Value Goods, but can usually be completed within 7-10 days after we receive the returned goods.
Groupon shopping voucher is strictly for customers who purchased Costco Individual membership through Groupon*
Receive a £10 warehose-only Costco Shopping voucher plus a free Fresh Twin Pack British Chicken, Kirkland Signature Carrot Cake and a pack of 48 Kirkland Signature AA Batteries.
See if you qualify for Costco Individual Membership
* Terms and Conditions:
The Offer: The Costco £10 warehouse-only shopping voucher will be provided after completion of the Costco membership application. Entire value of the Costco membership activation voucher must be used in a single visit. Valid for new Individual members only. This offer is not for a renewal of Costco membership. Each membership includes a 12-month spouse or domestic partner card. This may not be combined with any other offer or with other coupons. Costco accepts cash, cheques, debit cards and American Express. Please provide employment ID card or current pay slip to prove employment plus 1 piece of photographic identification. Verified using our merchant's price list on 1 April 2019.
Membership restrictions: Groupon shopping voucher is for NEW Individual Costco Members only* Find out if you qualify for Costco Membership. You must qualify for membership in the warehouse. If you don't qualify, you will be refunded by Groupon. Valid for members employed in banking, finance, civil service, education, fire rescue services, insurance, local government, medical, health service, police force, post office and airline, or those qualified as a chartered architect, chartered civil engineer, chartered surveyor, dentist, optician, pharmacist, qualified accountant, solicitor, barrister, magistrate, advocate, doctor or optometrist. Employees of certain approved companies are also eligible: please call 01923 830477 or email warehousememberservices@costco.co.uk for further details.
Online Restriction: Cannot be used online at costco.co.uk.
Validity: Valid in all UK Warehouses from 15.04.19 until 12.05.19
Redemption: Must present printed or mobile Groupon on arrival. 14-day cancellation policy.
Purchase: Limit 1 per household, may buy 1 additional as a gift (Membership Restrictions still apply).
We Care about what you think
Reviews are not only important to customers its important for us too. At Costco.co.uk we take our reviews seriously and work constantly on improving our product quality to match your expectations.
Help us serve you better by leaving a review on your purchases.
How to leave a review:
You will receive an email within 3 weeks after you have made a purchase to leave us a review
Click on the link which will take you to an external review service provider and submit your reviews
Here are a few tips:
Create a nickname for yourself. It's best not to use your real name!
Provide an overall product rating based on a scale of 1 to 5 stars (5 being best).
Give your review a title.
Share your opinion of the product in detail. You're welcome to explain anything you liked or disliked about it.
Keep in mind, the review must focus on the specific product, not on shipping or customer service.
Indicate if you'd recommend this product to a friend.
Enter your email address and Costco.com order number (if available).
For shipping or customer service issues please contact Customer Service.
We'd also greatly appreciate if you could avoid doing the following:
Mentioning information that will change (price, for example)
Mentioning other sites or businesses
Language or tone that is inappropriate
Divulging personal information
Including a URL in your review
Focusing on shipping or delivery experience
Requesting different models, styles or colours of the item be carried
All reviews will be moderated by an external, impartial agency for appropriate content. Approved reviews will be posted within 72 hours.