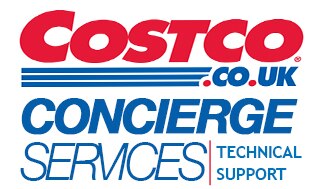 Free
Technical Support
Exclusively for Costco UK Members
Freephone
0800 066 5091
Available 12 noon - 12 midnight. 7 days a week, excluding bank holidays
Receive Free technical support for any Televisions, Computers, Major Appliances/White Goods*, Cameras, Camcorders, Tablets, Security Camera Systems, Printers, Mobile Phones and MP3 Players you purchase at Costco Wholesale UK Ltd or costco.co.uk.
Speak with expert level technicians
Enjoy easy-to-understand answers to your set-up and product use questions
Get troubleshooting assistance
Obtain warranty information and assistance
This service is available exclusively for all Costco UK Members
To help us assist you quickly, please have the following information available when you call:
Name
Costco Membership Number
Costco Item Number (printed on your receipt)
Item Description and Model Number
Serial Number
Purchase Date
Extended Warranty
5 Year Warranty**
Costco extends the manufacturer's warranty to 5 years on Televisions and Projectors from the date of purchase.
2 Year Warranty**
Costco extends the manufacturer's warranty to 2 years on Computers (Including Tablets), Major Appliances/White Goods* Cameras and Camcorders from the date of purchase. Common exclusions are data backup and software replacement, physical damage or liquid damage. Costco Concierge services advise backing up your computer frequently.
Electronics 90 Day Return Policy
Your satisfaction is Costco's top priority
Televisions
Projectors
Computers
Major Appliances/ White Goods*
Cameras
Camcorders
Mobile Phones
Tablets
MP3 Players
Smart Watches
* Refrigerators (over 87cm tall), freezers, hobs, ovens, dishwashers, washers and dryers.
** Extended Warranty Terms & Conditions
See Manufacturer's warranty for specific coverage terms. For warranty service contact Costco Concierge Services on Freephone 0800 066 5091.
In the unlikely event of a malfunction occurring, you will receive free of charge service covering both parts and labour.
This warranty is subject to the terms and conditions detailed below in paragraphs (1 through to 6) but does not affect your Statutory Rights provided by law in the United Kingdom.
Repairs will be carried out by either manufacturer, Service Power (which is a national service organisation) or another Service Centre approved by Costco.
This Warranty does not cover accidental damage, misuse, computer viruses, software, apps or any fault or defect caused by fire, lightning strike, water or sand ingress, neglect, misaligned or unsuitable aerial, inadequate internet connection/Wifi signal or fair wear and tear. In addition, any attempt to repair the product by non authorised personnel will invalidate the Warranty.
Consumable items are not covered under the Warranty. They include, but are not limited to, batteries, bulbs, bags, cassettes, SD cards, cables etc.
Warranty applies to Costco UK members and costco.co.uk purchases only.
This Warranty applies to mainland United Kingdom only.
In order to provide you with Costco Concierge Services, Costco may share information about your electronics purchases, such as make and model, with third-party providers. This will not be used for Marketing purposes.
The Costco guarantee does not affect your statutory cancellation rights, or your statutory rights in respect of faulty products. Under the Consumer Rights Act, you have the right to seek a refund for faulty goods within 30 days, and a right to seek a repair or replacement within the first six months.