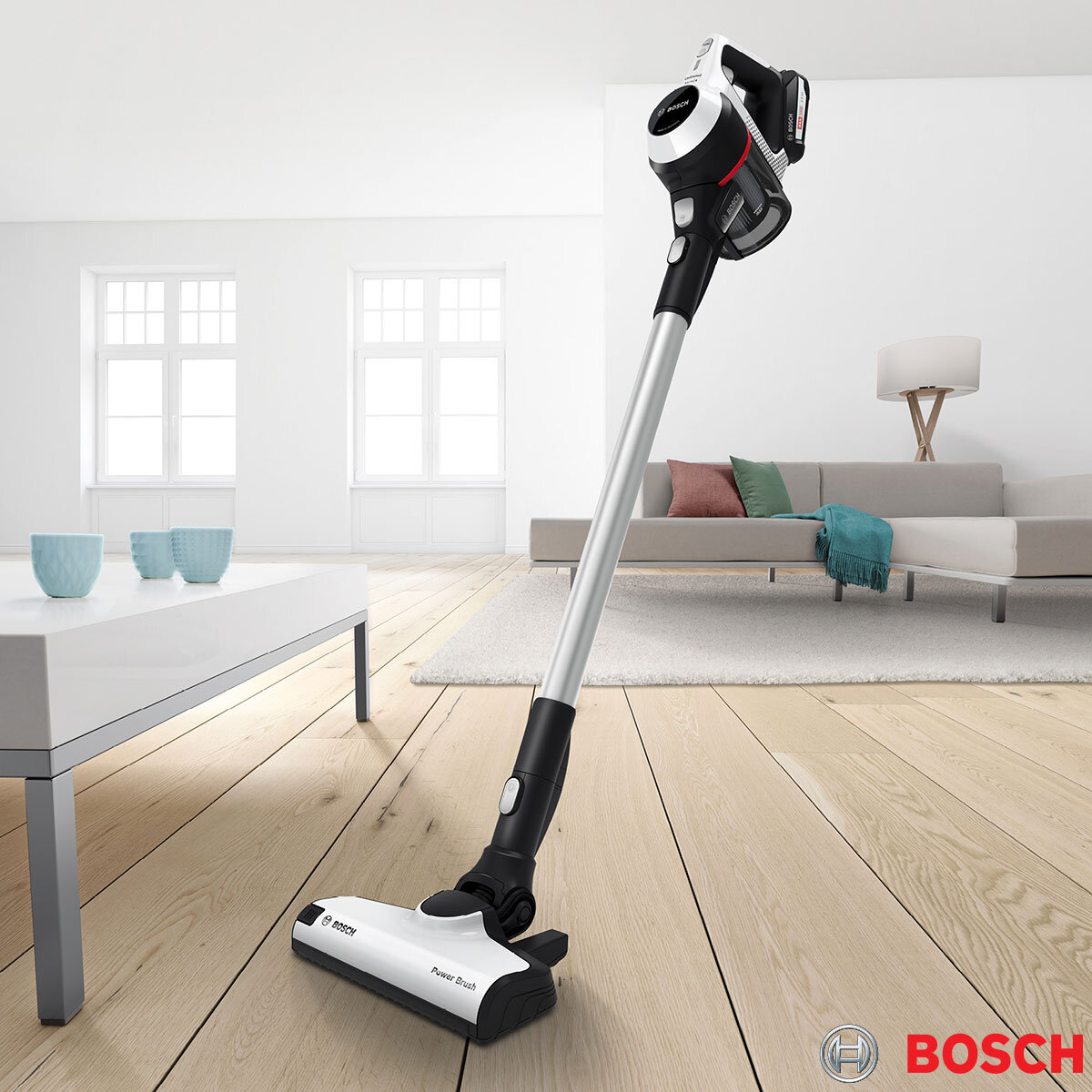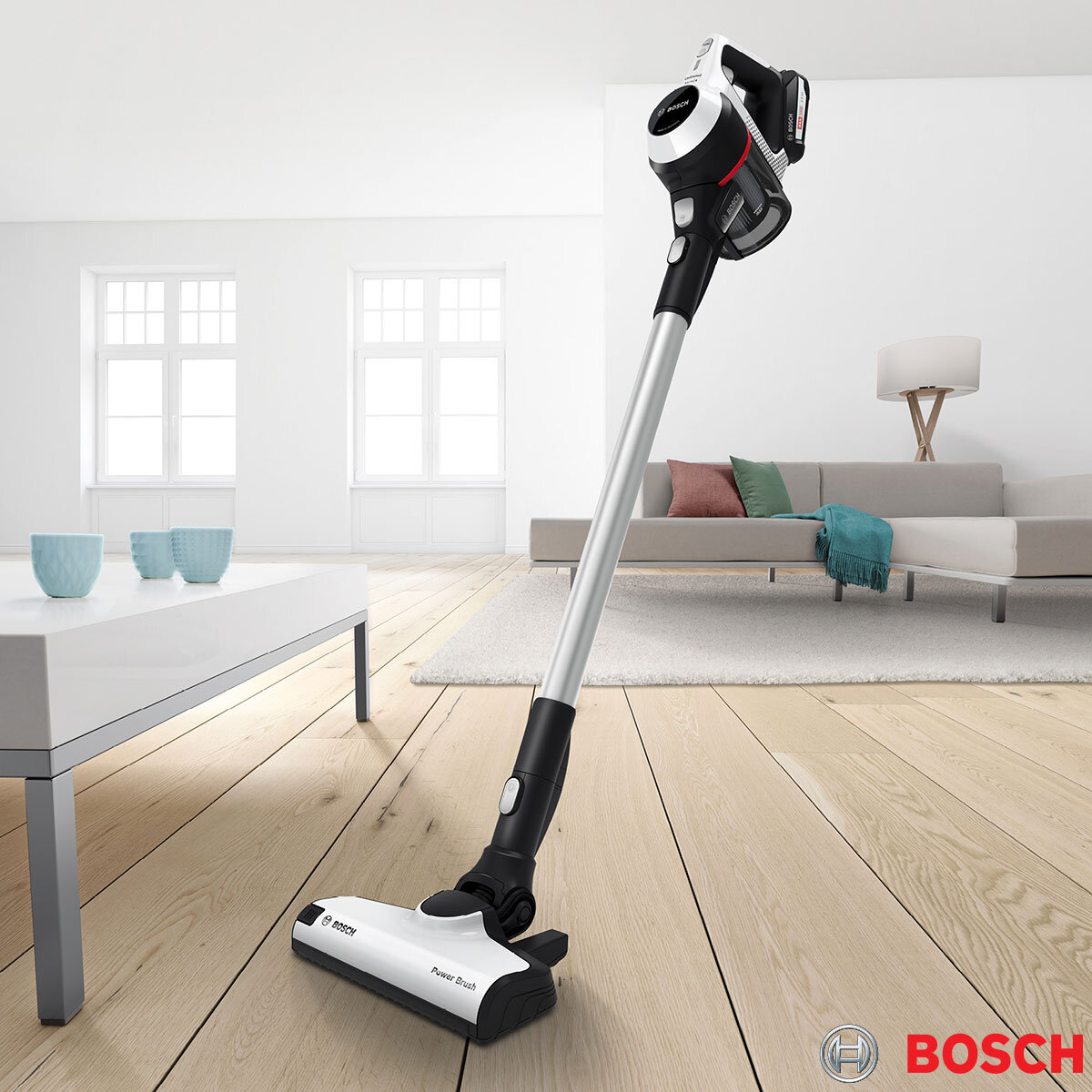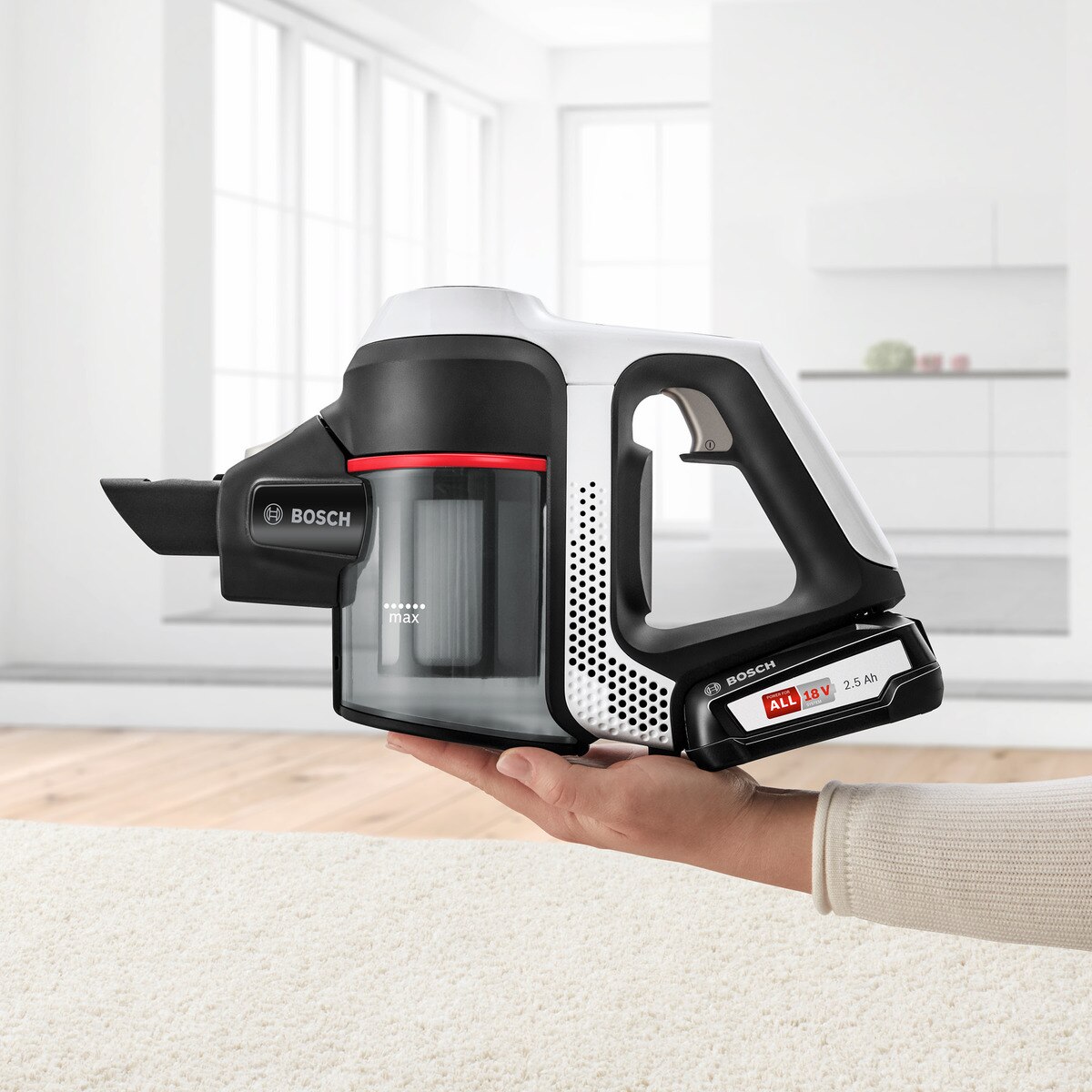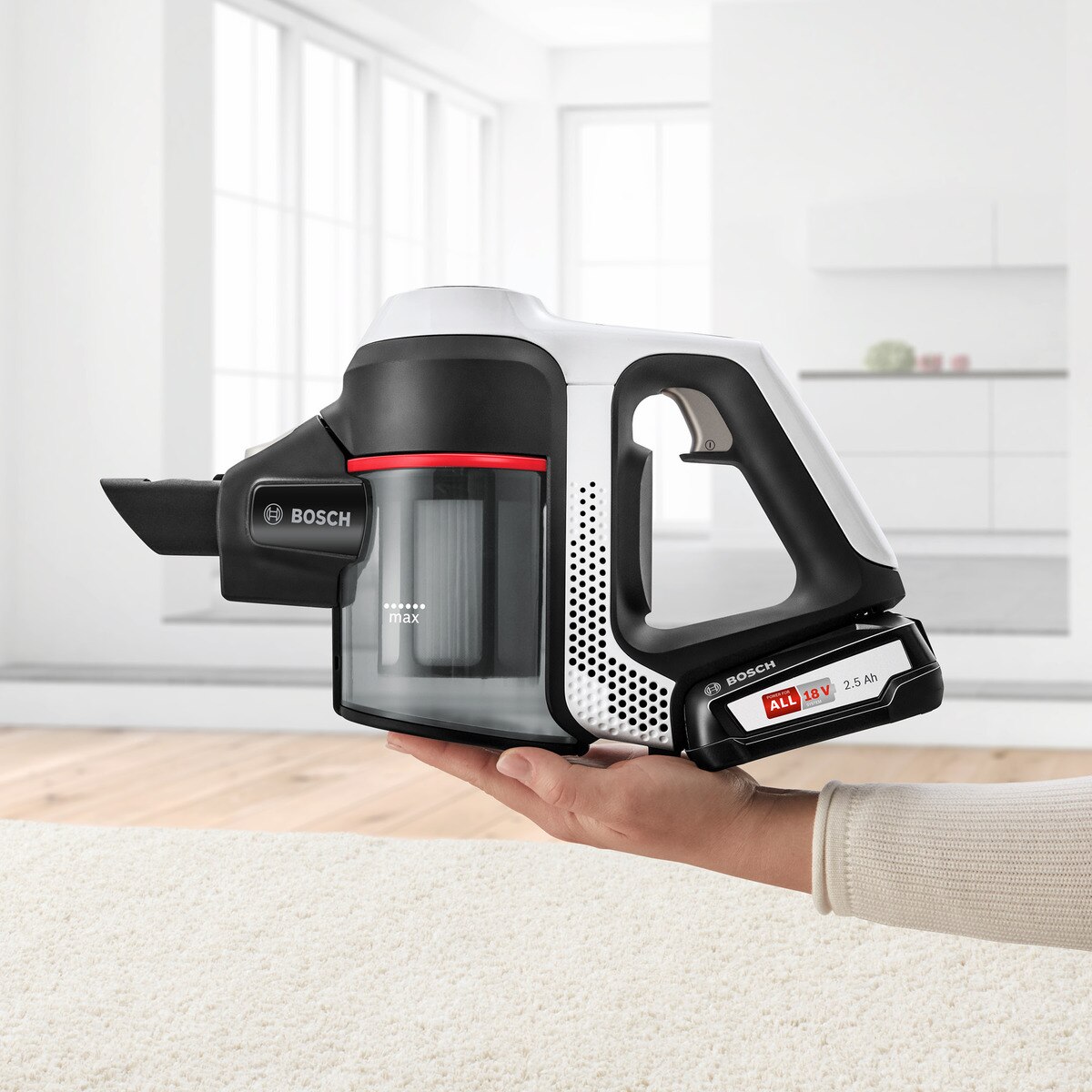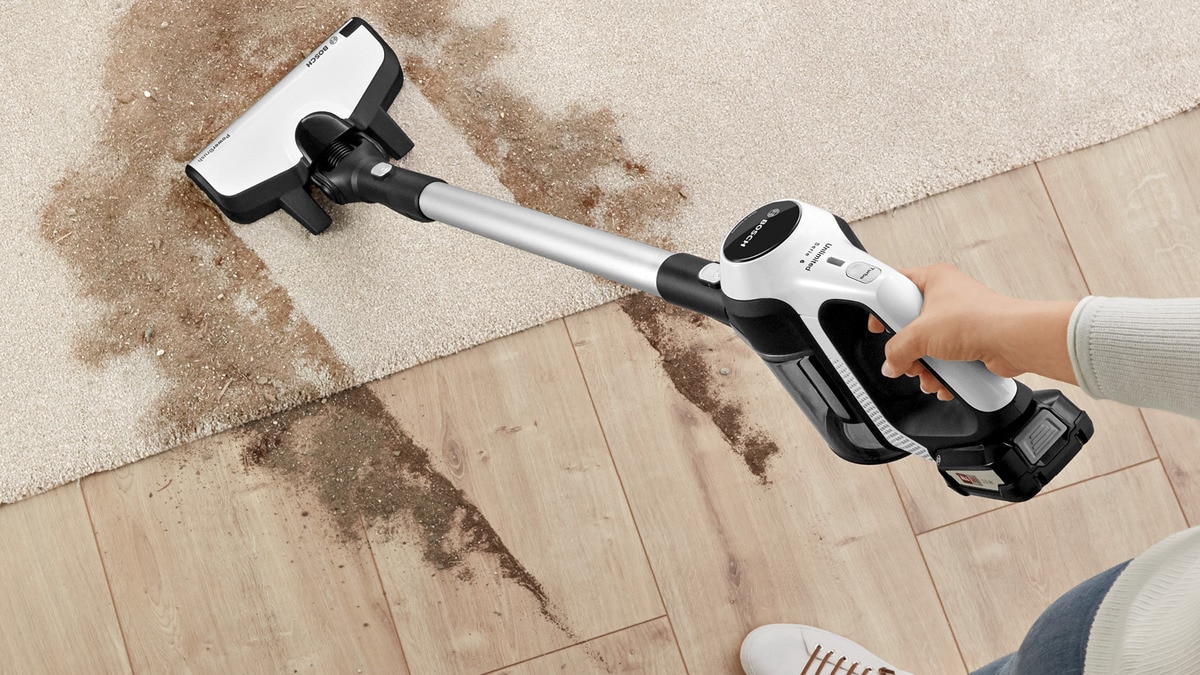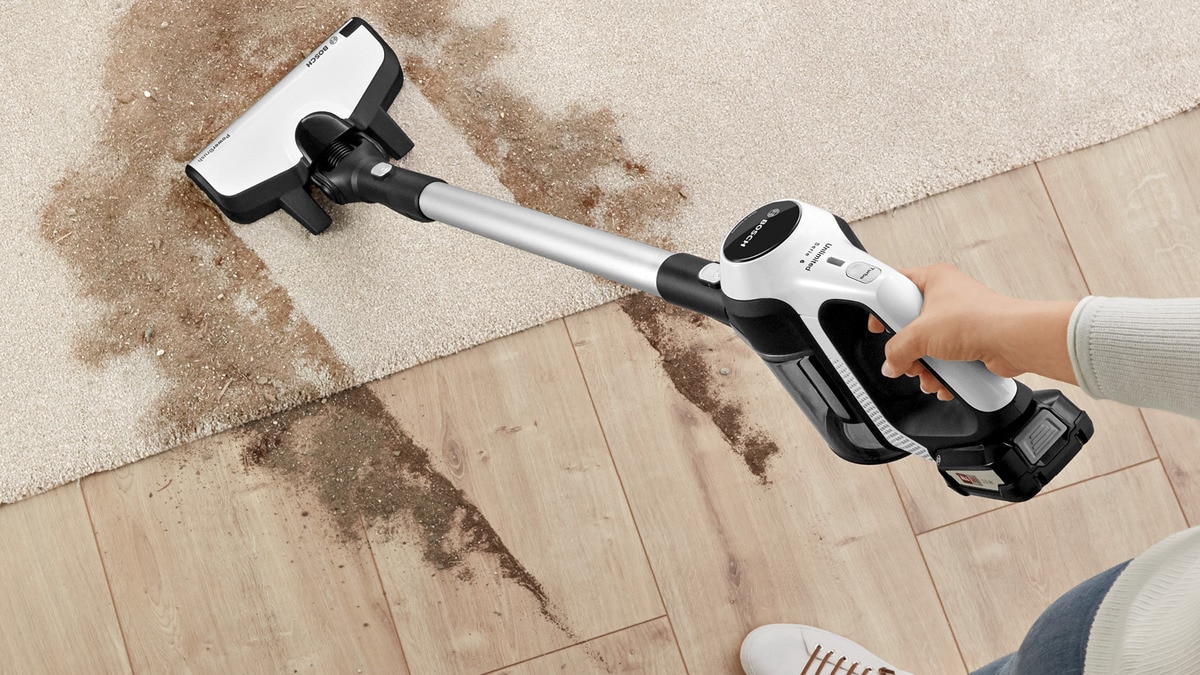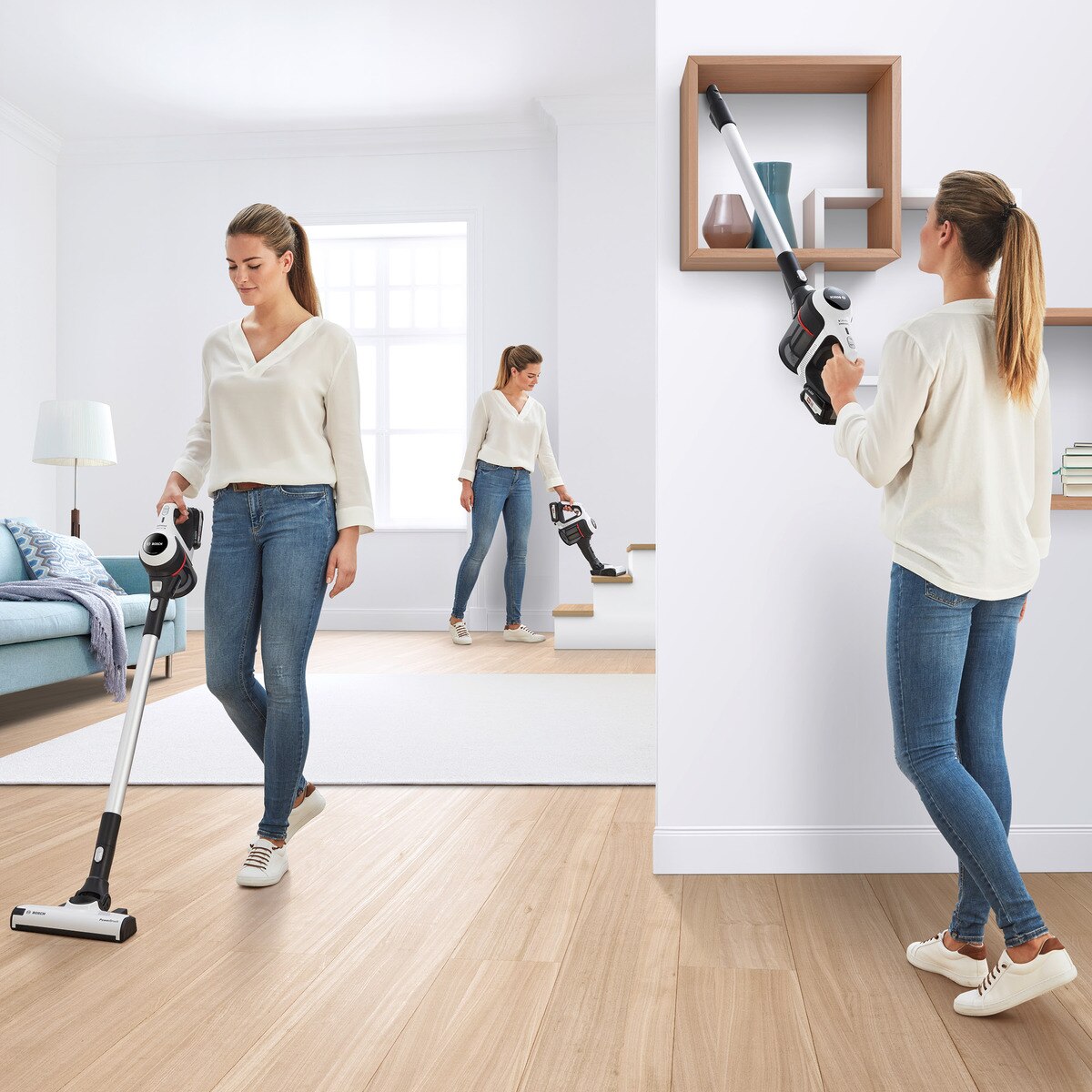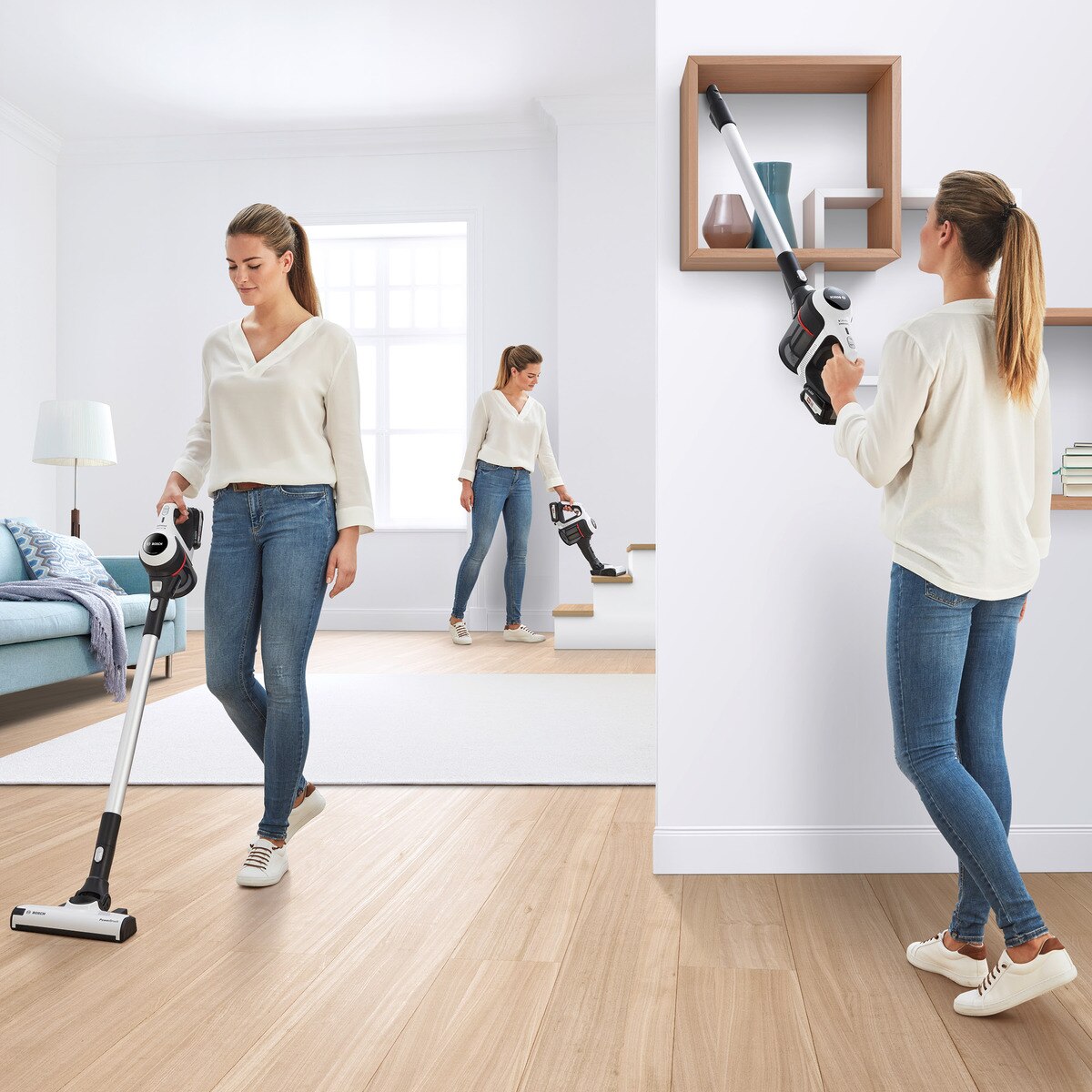 Bosch Serie 6 Unlimited ProHome Vacuum Cleaner, White BCS611GB
Item #355351
Features
- 0.9 litre usable capacity
- Long flexible crevice nozzle
- Hygienic emptying of the dustbox and no filter washing.
- Compact design and light weight


The Bosch Unlimited Serie 6 with its compact, cordless design and low weight makes vacuuming easy & comfortable. The handheld weighs only 1.4 kg and together with the tube and the nozzle only 2.3 kg.
This extremly lightweight design makes vacuuming on every level - from the floor to the ceiling, now possible. The vacuum cleaner comes with useful accessories that allow you to clean all kinds of flooring as well as other surfaces, such as tables, upholstery and even your car interior.
The Unlimited Serie 6 is developed and produced in the Bosch factory with more than 80 years experience in vacuum cleaner manufacturing. Bosch vacuum cleaners have won many awards in consumer tests and have passed hundreds of testing hours in the development phase.

The Bosch exchangeable battery pack offers continuous run time of the Unlimited vacuum cleaner. To extend the run time, an additional battery pack and quick charger can be purchased separately.
Most devices have different batteries, which can be inconvenient. The exchangeable Power for ALL batteries are part of the 18-Volt Bosch Home & Garden cordless system (green product line). They are compatible with many different power tools & gardening devices from Bosch.

The Unlimited ProHome cleaner is equipped with the latest brushless motor technology, making the digital motor powerful, reliable and emission-free. Combined with the specially developed Bosch AllFloor Power Brush, this ensures thorough cleaning on all floors.
Features:
AllFloor Power brush and compact DigitalSpin Motor let you clean on all kinds of floors.
Exchangeable battery pack enables you to extend the runtime if necessary.
Up to 30 min. on normal mode with non-electrical accessories
Up to 25 min. on normal mode with electrical floor nozzle
Up to 8 min. on turbo mode with electrical floor nozzle
Made in Germany: high quality standards and thorough testing for enduring satisfaction.
Cartridge filter with Pure Air membrane and hygienic filter for clean exhaust air
Hygienic emptying of the dustbox and no filter washing.
Compact design and light weight
Easy storage: docking station for convenient storage of appliance and accessories
0.9 litre usable capacity
Long flexible crevice nozzle
XXL upholstery nozzle: extra-wide for faster cleaning of upholstered furniture
Mattress nozzle for thorough cleaning of mattresses
What's in the box?
Bosch Serie 6 ProHome Vacuum Cleaner
XXL upholstery nozzle
XXL crevice nozzle
Mattress nozzle
Charger
Exchangeable battery pack
Docking station
Adapter

Model: BCS611GB
EAN: 4242005189953
| | |
| --- | --- |
| Power | 18 V |
| Charge Time | 4 hours |
| Run Time | Up to 30 minutes |
| Bagged | Bagless |
| | |
| --- | --- |
| Colour | White |
| Brand | Bosch |
| Type | Stick Vacuum |
| Dimensions | H 122 x W 20 x D 26.5 cm |
| Weight | 2.3 Kg |